Laguna 14BX – 14-in bandsaw
A bandsaw that does everything right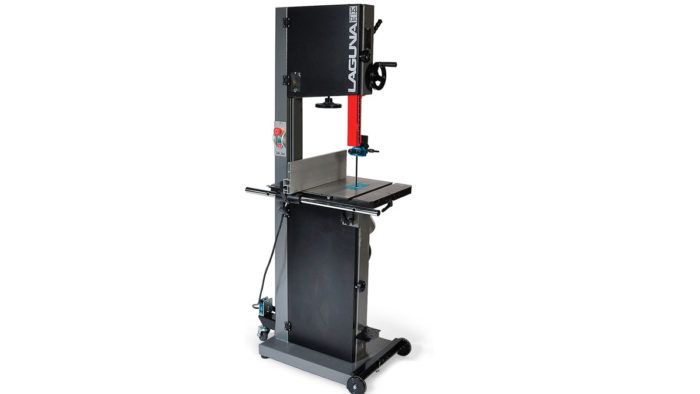 Synopsis: This Laguna bandsaw (Model 14BX) has all the best features of the 14/Twelve, plus an excellent disc brake, tool free adjustments on the ceramic guides, a large throat plate and a generous work surface. The tires are very balanced with almost no vibration, and dust collection is excellent, even when resawing.
I very much liked Laguna's 14/Twelve bandsaw when I reviewed it. Their 14BX bandsaw has the best features of the 14/Twelve—tall fence, big table, toolless ceramic guides—and adds a full cabinet (no more stand), and a disc brake to create an awesome bandsaw. The disc brake is the best brake that I've seen on any bandsaw. A gentle push on a foot pedal cuts the power through a microswitch and mechanically clamps the disc brake, stopping the saw very quickly. Tool-free adjustments on the ceramic guides and a large throat plate make changing blades a breeze, and dual 4-in. dust ports (one directly below the guides, the other at the bottom of the cabinet) do a good job of keeping up with the sawdust, even when resawing at the saw's full 12-in. capacity. Nicely balanced cast-iron wheels and true-running urethane tires create a virtually vibration-free saw that tracks blades very accurately.
The saw is available with a 1 3/4-hp or 2 1/2-hp motor, which is the size motor on the saw I tested. The first thing I tried after I had the saw set up was to resaw some hard maple, which it did with absolute precision and no straining. There is virtually no flex in the upper guide post. The 38-in. table height, combined with a high-low fence and a generous 16-in. by 21 1/2-in. table, create a great work surface.