Tool Review: Laguna 18BX
Trusted bandsaw gets a big brother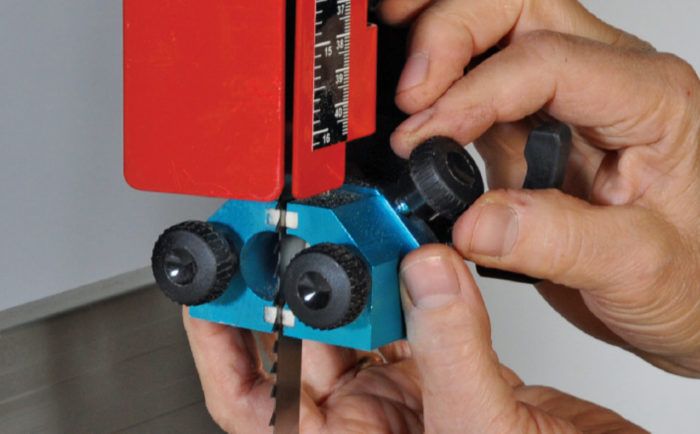 Laguna Tools' 14bx bandsaw has gained a following as a great midsize bandsaw, and now there's a big brother tracking in its footsteps: the 18BX. With 3 hp, an 18-in. throat, 16 in. of resaw capacity, a 20-in. by 26-in. table, and more than 400 lb. of mass, the 18BX brings serious capabilities to the woodshop.
The new saw includes one of my favorite features of the BX line: a very effective disc brake, which can help prevent injuries from silent, coasting blades. Dust collection is also very effective, with a 4-in. port directly below the lower blade guides and a second port at the bottom of the lower wheelhouse. To facilitate blade changes, a magnetic strip on the hinged blade guard makes it easy to open and close. The blade guides offer great blade support, though the lower guides are a bit awkward to access.
The 22-3⁄4-in.-long extruded aluminum fence has a 5-3⁄4-in.-tall face for great resawing support and can quickly be reconfigured to present a 1⁄2-in. edge to allow the guides to be set close to thin stock. The fence also has a T-track at the top for a flip stop to glide in, and the stop moves easily and locks securely. Unfortunately, I had to tweak the fence to make it square to the tabletop, and it wasn't flat across the vertical face. However, I've been assured by Laguna this hiccup will have been taken care of by the time this review is published, and a company representative told me Laguna will replace any problematic fences that were shipped before the problem was found.
Overall, the 18BX is a lot of saw for the price. And if you add the $175 mobile base, it can be easily tucked away until some serious sawing summons the big boy.
—Contributing editor Roland Johnson wrote the book on bandsaws (Taunton's Complete Illustrated Guide to Bandsaws, The Taunton Press, 2014).