Use an offcut to make a perfectly fitted rabbet joint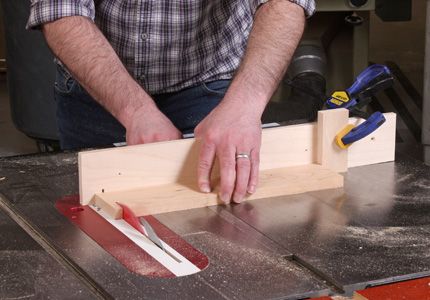 This past weekend I was called into action to help my daughter make a prototype of her invention for her school's "Invention Convention." She had designed a box with compartments to hold craft supplies (pencils, crayons, stickers, etc.) in an orderly fashion for car trips. Of course, it needed to be made lickity split, because she had to take it to school a few days later. I knew a box with rabbet joints at the corners would be fast and easy to make, and have enough strength.
After milling the sides to thickness and cutting them to their final lengths and widths, it was time to cut the rabbets. I had my rip blade in the tablesaw, and I wasn't in the mood to switch it out for my dado set. So, I decided to just use the rip blade. It cuts a flat bottom kerf, and as long as the workpiece is supported by a backer board, there's no tearout. I stopped for a moment to think about how to set up my miter gauge so that I could cut the rabbet's shoulder (4 in total) without having to do any tedious layout. Sure, I could set my cutting gauge to the side's thickness, scribe the side that gets the rabbet, and use that mark to set a stop block on the miter gauge's fence. But, argh, I wanted to get done quickly so that I could watch some of the NCAA basketball tournament.
And then it hit me. I had the miter gauge set up with a stop block from when I cut the sides that get the rabbets to length (what luck that I cut them last!). Why not just stick an offcut from the other two sides (that don't get the rabbet) between the stop block and the side? That would move it over the exact distance needed to cut the rabbet shoulder (the rabbet needs to be as wide as those sides are thick). After cutting all four shoulders, I could remove the spacer and nibble away the rest of the waste.
Well, it worked great. Check out the photos for a step-by-step explanation of what I did (but demonstrated on a drawer). I'm sure others have done this before, and I bet that I've seen it done somewhere and that's how it came to me. So, thanks to whoever I stole this from.