Fast Fixes for Joinery Mistakes
5 pros share their favorite saves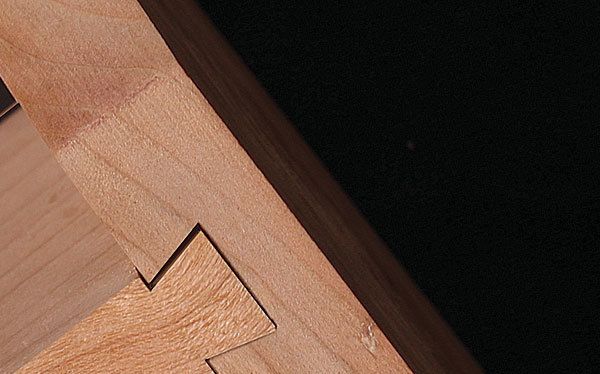 Synopsis: Straight from the pros, five quick and easy fixes for joinery mistakes. If you find yourself midway through a piece of furniture and find yourself with a gappy dovetail, a miscut tenon, or miters that don't meet perfectly, you don't necessarily have to start over. Take these tips from five seasoned furniture makers: Save your joinery and preserve your peace of mind.
In the article "How to Fix Flaws and Mistakes" (FWW #228), we asked the magazine's most frequent contributors for their favorite methods for concealing flaws in the wood, whether self-inflicted mistakes or courtesy of Mother Nature. Their clever tricks for getting out of a problem without having to go back and start over struck a chord with our readers.
That article focused on cosmetic fixes for surface flaws, but we saved a whole other family of invaluable remedies, for mistakes made while cutting joinery. While these mistakes may or may not affect the look of a piece, they most certainly have an impact on its strength, and can force you to scrap a valuable workpiece. Once again, the pros have a bunch of tricks up their sleeves.
Angled shim for through-dovetails
A common mistake when handcutting through-dovetails is to cut on the wrong side of the scribe line, which leaves a small but noticeable gap between the pin and tail when the piece is glued up. A surefire solution is to fill the gap with a thin shim that's the same wood species as the project. Widen the gap first, glue in the shim, then trim it flush.
Insert the shim. Chop the bottom of the strip at an angle so it will fit the widened gap, then glue it in place. Be sure to orient the end grain of the strip in line with that of the tail board.
Widen the gap. A slight gap can be hard to fill. To make it easier, widen it slightly with a dovetail saw, angling the saw and cutting to the baselines of both the pins and tails.
Wide shim for a loose sliding dovetail
This fix came to me while I was working on a wall shelf made with sliding dovetails. As always, I'd set up the router-table cuts using test pieces and verified the fit. But after I finished routing the dovetail keys, I discovered that I was off by a little more than 1⁄16 in. Yikes! Turns out that I'd not tightened down my fence sufficiently, and it shifted slightly as I made the cuts. Fortunately, I came up with a fix that was pretty quick and easy. I filled the gap with a piece of thick veneer, glued along the face of the key. Be sure to run the grain in the same direction. Then I re-routed the joint to get a tight fit. —Greg Brown is a furniture maker in New Hampshire.
For the full article, download the PDF below:
View PDF