Ulrike Scriba's Marquetry: Risk and Reward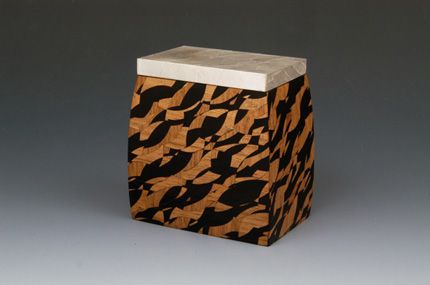 Ulrike Scriba started working wood at 14 in her father's metalsmithing shop in the south of Germany. She studied sculpture in art school and later spent five years practicing the art of traditional ornamental plasterwork before opening an antique repair shop in 1976. Scriba was surrounded by craft growing up–both within her family, where there were cabinetmakers and designers, and in the towns nearby, which were steeped in craft tradition.
---
MARQUETRY AND INLAY
---
Yet when Scriba discovered marquetry in the early 1980s and launched her career in a new direction, she had no teacher. She simply learned by trial and error–a cycle of frustration and discovery that she credits with continually spurring her to new innovations. Although she has long since mastered the techniques of the craft, she continues to experiment with her pieces. She has developed a process for producing her designs–cutting contrasting veneers in abstract patterns and then reassembling them and recutting them–that is both demanding and unpredictable: she never knows exactly how the final pattern will turn out until she sees it complete.
This slideshow presents a range of Scriba's superb marquetry and explains some details of her technique.
More Masters of the Craft Slideshows
• Adrian McCurdy: Furniture Riven from the Log
• Geoffrey Warner: Assembling a Life
• Peter Shepard Turns the Page
• Curve It Like König
• Partners in Craft: Harold Wood and John O'Brien
• Tool Chest with an Arts & Crafts Legacy
• Adrian Potter: Thinking Furniture
• Hank Gilpin: Exploring the American Forest
• Doug Mooberry: Kinloch Woodworking
• Michael Hurwitz: Planks into Poetry
• Brad Smith: Story of a Stool
• Hank Holzer and Judith Ames: Labor of Love
• Michael Fortune: The Clever Chair
• John Cameron: A Musician in the Woodshop
• Allan Breed: The Past Recaptured
• Kintaro Yazawa: Joint Wizardry
• Grant Vaughan: Subtropical Virtuoso
• William R. Robertson: Micro Maestro