Grizzly Industrial - Grizzly – GO715P Hybrid Table Saw Review
Grizzly's new hybrid tablesaw features a true riving knife that prevents kickback when used properly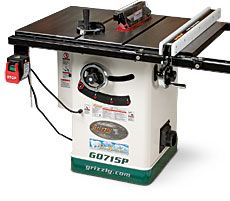 Last Summer, Grizzly Tools introduced its Polar Bear line of woodworking machines. Among the new tools in that line is this 2-hp hybrid tablesaw with a riving knife. With its bargain price, I was eager to see what this machine offered. I wasn't disappointed.
All of the critical parts were well made. The cast-iron top and wings were nearly dead flat, and the arbor runout was less than 0.001 in. All the moving parts—fence and blade adjustment wheels—were wonderfully smooth. The throat plate had good stiffness, but it's thinner than plates I've seen on other saws. Fortunately, Grizzly will be selling insert blanks (about $25) for this tool. In terms of the fit and finish, the weakest part of the saw was the fit of the miter gauge bar in the slot. There was too much slop between the bar and the slot.
The saw had plenty of power, handling ripcuts in hard maple without hesitation. Dust collection was average. One thing to note: The 2-hp motor is prewired for 220 volts, so to run it on 110, you'll need to do some rewiring.
All things considered, the G0715P tablesaw did not disappoint. It's a good hybrid saw at a very good price.
More on FineWoodworking.com: