Tools to look out for this summer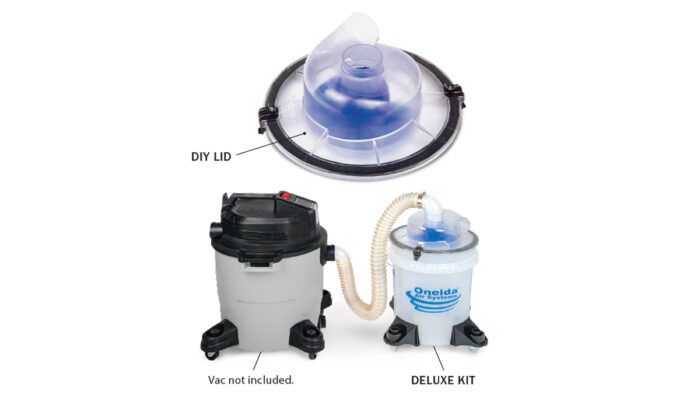 Oneida's new Low-Pro Lid Separator attaches to any 5-gal. bucket to capture 99% of the chips and dust that would otherwise fill the bag or clog the filter in your shop vacuum, according to the manufacturer. Better yet, it promises up to 50% more airflow than other lid-style separators, which means it will steal less suction from your vacuum. The DIY kit (lid and hardware only) is just $60 at Oneida-Air.com. The deluxe kit ($140) includes a wheeled bucket with a tether and an extra length of hose for connecting to your vacuum.
Smart table saw adds speed and accuracy
The new General 10-in. Automated Table Saw ($6,000–$6,500) is a heavy-duty machine available in a variety of configurations, including 3- and 5-hp motors and 36-in. and 52-in. fence systems. What sets it apart are automated, touch-control adjustments for blade height, blade angle, and rip-fence position (cutting width). While these features might not be critical for a hobbyist, they could pay off quickly for small-shop cabinetmakers. Go to GeneralToolsUSA.com for more info.
Versatile router sled works on table saw, too
Infinity's VRS-200 Professional Vertical Router Sled ($280 at InfinityTools.com) is a heavy-duty jig with a variety of uses on the table saw and router table. With a sliding miter bar below and a large, pivoting face above, it can cut tenons and other joinery at any angle. The pivoting face has positive stops at common angles, adjustable fences, and a large, built-in toggle clamp. The adjustable miter bar, which allows compound-angled cuts, is not automatically squared to the sled, but it can be squared easily on the table saw by pushing the rip fence against the back of the sled. Two large handles keep hands out of harm's way.
Photos: courtesy of the manufacturer