DeWalt - DWP611PK Router Combo Kit
With two different bases this router acts like a trim router and a plunge router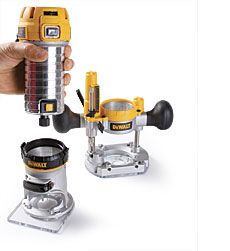 Review: DeWalt Router Combo Kit DWP611PK
From afar, DeWalt's new compact router looks like a laminate trimmer, but upon closer inspection you see that it's a true variable-speed combination router, with fixed and plunge bases. Though it has only a 1/4-in. collet, which limits the bit sizes you can use, its big-router features make this tool a real winner.
The DeWalt router can do anything a laminate trimmer can do: edge details such as chamfers and roundovers, flush-trimming, and mortising for hinges. But its unique plunge base makes the DeWalt ideal for inlay work. Its small size and two-handed grip give great control for these precision cuts. And with two bright LED lights in the motor housing, you'll see your layout lines clearly. What's more, this small router has enough juice (1-1/4 hp) to power through joinery cuts, such as dadoes and small mortises.
Back in fixed-base mode, the router is easy to control with one hand. For fast depth-of-cut adjustments, the base uses a rotating adjuster ring, which threads on the motor.
More from FineWoodworking.com:
The plunge base features a generously sized plunge lever, which was easy to lock and release, and the plunge action was smooth. The plunge depth is limited by a turret with four fixed stops and one adjustable stop. And you can dial in the depth of cut precisely using the micro-adjuster on the tip of the depth rod. The whole system zeroed intuitively, and quite efficiently, holding its adjustment incredibly well.
You can also get a bunch of handy accessories that you'd be more likely to find on a bigger router, such as an edge guide, a guide for a track system, and even a dust-collection shroud. Plus the router accepts standard Porter-Cable guide bushings, which readily install in both the fixed and plunge bases.
Though it behaves like its larger cousins, the DWP611PK is not suitable for heavy-duty jobs, such as excavating large mortises in hardwood or making miles of molding, where you need more power and mass to handle the larger bits. But it's more than able to handle most other routing tasks typical in a home shop. Bottom line, you'd use the heck out of this little router.
Revolutionary router. In fixed-base mode (left), DeWalt's compact router can profile an edge one-handed, like a trim router. In plunge mode (right), the tool becomes a precision router for inlay and small mortises, with two LEDs lighting the way.