Tool Review: Cordless router by Milwaukee, Model 2723-20
Asa Christiana takes a look at a cordless router that gets everything right.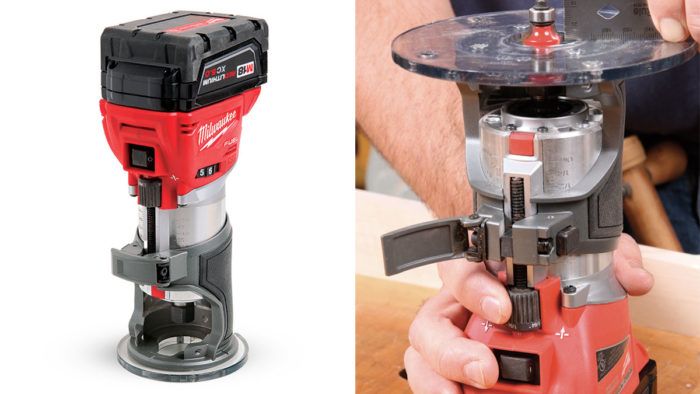 It's too bad the Milwaukee M18 Fuel Compact Router wasn't on the market in time for our test of cordless routers (FWW #277), because it would have taken top honors. I submitted it to the same tests, and the results were amazing.
It's almost like Milwaukee studied its competitors before launching its own cordless router, because every shortcoming I found in others is addressed here. Power, control, bit changes, accessories, lights—Milwaukee has it all figured out.
I routed the same deep molding profile in 60 ft. of hard maple—a heavier cut than I would normally attempt with a 1⁄4-in.-shank bit in a single pass—and the profile was glassy smooth. Like the best routers in the category, the Milwaukee M18 Fuel's brushless 18-volt motor barely slowed when I pushed the feed rate, and the 5 amp-hour (Ah) battery ($129) never faltered. In fact, I ran all my tests on the same battery charge, and at least half of it was left at the end (the battery has illuminated charge indicators).
| | | |
| --- | --- | --- |
| Easy adjustments. A small finger wheel makes precise adjustments, a side button frees the base for big moves, and a big lever locks the base firmly. | Smooth, powerful performer. An extralarge accessory base is included for added support when the router hangs over an edge, and deep cuts are easy in the hardest woods. | Nimble on narrow edges. The smaller, standard base is best for jobs like flushtrimming on thin edges, which the Milwaukee handles without a wobble. |
Balance is excellent on narrow edges. The tool also includes a larger accessory baseplate for when you need extra support. A dust-collection port goes on and off easily, and a nice edge guide is included too.
Bit changes are easy. The base goes off and on quickly, and the motor rests firmly on its side while you engage the spindle lock with one hand and turn a single wrench with the other (two wrenches are included if that's your preference). An extralong taper in the collet locks bits very securely.
Depth changes are quick and precise, with both a macro- and a microadjuster, and the base locks firmly. Plus, the bit slows to a stop almost immediately after you turn off the tool, which lets you set it down on the bench quickly and move on.
An optional plunge base is available for $110.
—Asa Christiana is a woodworker and freelance writer in Portland, Ore.
From Fine Woodworking #282