Tool Review: Router baseplates by Infinity
Asa Christiana reviews a trio of excellent, affordable bases, pre-drilled to mount on many common routers.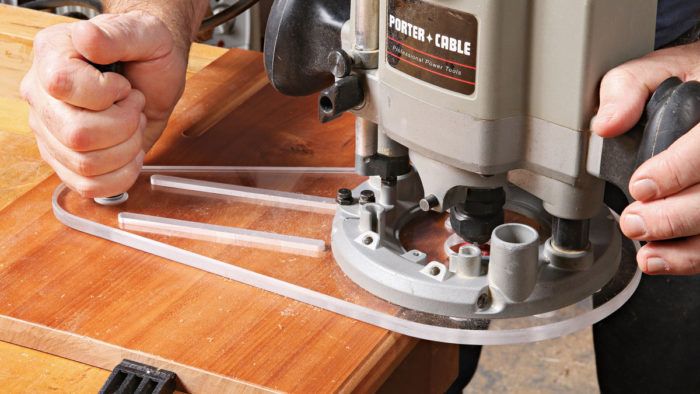 Control is everything with a router, which is why expert users often equip theirs with larger baseplates. To save you the time and trouble, Infinity Tools is offering a trio of excellent, affordable bases, pre-drilled to mount on many common routers (check their website to be sure yours is one of them). All three are machined precisely from 3⁄8-in. acrylic with rounded edges that are friendly to the hand, and all are drilled to accept standard Porter-Cable-type bushing guides.
There are two sets, one for full-size routers and one for compact models. I tried the larger set, mounting all three on my Porter-Cable 690. These were thicker than the base that came with my router, so I needed slightly longer screws to attach them. With those in hand, the mounting holes line up with CNC precision.
The first baseplate is a large, round, all-purpose model that's helpful for most tasks. The second base is square and even larger, making it better for bridging big gaps when routing out large recesses and inlay. It would also be great for a slab-flattening router jig, for example. The third baseplate is the most versatile, and the one I'd buy first. Called D-Handle by Infinity, it extends far out to one side, with a large handle attached at that end for control. Offset bases like this are fantastic for bearing-guided cuts when most of the router is overhanging the edge, since they let you place all of your pressure on the inboard side to ensure smooth cuts with no wobbles. Using Infinity's offset base was a delight, and I kicked myself for not making my own years earlier.
But Infinity takes their offset base a big step further than I could with a shopmade version, because theirs has a bolt-on edge guide. This fence has two different sides, one for riding straight edges, and the other for following a curve. The straight side rode edges beautifully. The other side rides curves big and small, but with nothing stopping the guide from wandering away from the edge and ruining the cut, I was missing the trammel setup I usually use, which pivots on a fixed center point in a block attached to the workpiece with double-sided tape.
I recommend all three bases for routers big and small, especially the D-Handle.
—Asa Christiana is a freelance writer and woodworker in Portland, Ore.
Photos: Asa Christiana
From Fine Woodworking #283