Put Your Furniture Photos to Work

It seems that most woodworkers with a project or two under their belt start to think about selling their work or drumming up commissions, even if it's just to pay for materials. A lot of my so-called commissions starting out were simply to cover the cost of woodworking and give me an excuse to head out to the shop. In the past it was difficult to get the word out the I made furniture and even harder to show interested people my work. I'd spend a bundle on glossy 8x10s and put them in a nice portfolio only to guard it with my life. Of course it contained every piece in every style that I had made.
I recently wrote an article on a simple way to take great photos of your work. Not only has the digital age has made it easy to take good pictures, it's also easier to put them to use. Today it's a breeze to share your work through emails, on-line galleries, and even make your own website. While you're at it, you can even submit your photos to Fine Woodworking magazine for a shot at getting published in our Readers Gallery.
Here are four ways your photos can be working harder to show off your work. Plus, be sure to read our previous blog post on how to photograph your work!
Gallery
An online gallery is a great way to get your work on the web, and it's free. If you've spent any time on FineWoodworking.com, you've probably seen our online gallery. It's a good place to start posting your work. You can upload photos and include details and descriptions of all your work. You can set up your own page on the website that contains links to all of your posted work. It's a good place to point prospective customers to.
Publish Your Own Hardcover Portfolio
Custom portfolios are easier than ever. Many online photo services offer the ability to print hard-bound photo albums. While typically reserved for baby showers and summer vacations to the Grand Canyon, photo books are also a great way to create custom portfolios. Templates make it easy to drag and drop photos and add text for a very professional look. I used iPhoto on my Apple computer to create this 20 page portfolio for $30 plus shipping. If you make a variety of styles, you might want to make a few different portfolios instead of throwing everything into one.
Consider the Magazine
Once you've taken the time and effort to get good shots, you might think about submitting them to the Readers' Gallery in the magazine. Your work doesn't have to be over-the-top. We look for well-designed, well-built pieces that represent a broad cross-section of tastes and styles. A simple shaker table has as much of a chance as a Queen Anne highboy.
A few tips for submitting photos: Keep the image size as large as possible (save them as a jpg on the lowest compression setting) and don't do any color correction or altering of the image. We have experts on staff to color correct your photos based on our print specifications. Any modifications you do yourself will result in a loss of information and will make it harder to show off your work at its best.
Time for Your Own Website?
Last but not least, you can create your own website. This always seemed like a scary and expensive undertaking to me. Something only a full-time pro would consider or someone who had a web designer for a neighbor. There are now a handful of websites that allow you to create a site using their templates and will host your site for a monthly fee.
I gave it a shot using squarespace.com, where I was able to create my own website after a few late nights at the computer. It's still a work in progress, but you can check it out at www.pekovichwoodworks.com.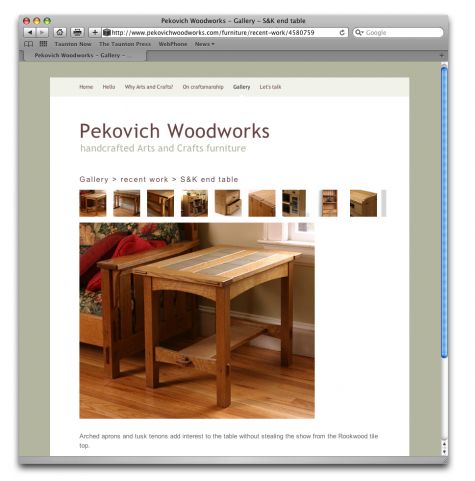 Online galleries are a free and easy way to get your work seen.
Custom portfolios are now easier, and cheaper to produce than ever before.
Don't forget Fine Woodworking magazine's Readers' Gallery.
In an upcoming issue of Fine Woodworking, I offer some tips for getting good quality shots of your work with a camera you probably already own. I'll show you the same step-by-step process we use at the magazine to show off your furniture at it's best.
Nowadays, building your own website is a lot easier than you might think.