Setting Up Shop: Which Machine First?
Woodworker Rob Porcaro explains why a portable thickness planer is his number-one choice.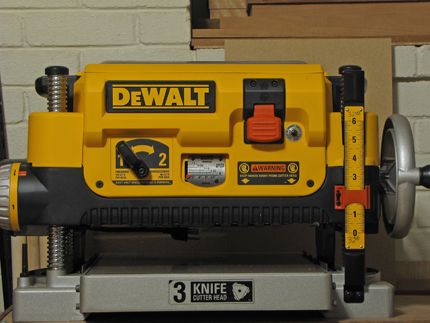 New woodworkers setting up their first shops may wonder which major machines should be purchased first, second, and so forth.
The suggestions in this post apply to the type of woodworking that is done by many readers: building mostly furniture and accessories, such as tables, chests, jewelry boxes, bookcases, and maybe a chair, using mostly straight but also some curved and sculptural elements, and employing a combination of machines and hand tools. It is assumed that money, time, and shop space are limited.
Quality woodworking is a very personal endeavor so the right choices depend upon each woodworker's methods and skills. Similar issues confront experienced craftsmen looking to upgrade their machine arsenals.
My suggested first major power tool is the portable thickness planer. Why? It accomplishes very well a difficult, essential task with relatively little expense and shop space.
$350 to $650 buys a machine that will perform its job at a very high level. Most woodworking projects start with flat boards of uniform thickness. So why not buy a jointer first? Here are two good reasons: a jointer with the analogous quality and versatility as a portable thickness planer would cost far more, and its tasks are far easier to do by hand than is thicknessing.
A flat surface prepared by hand, preceding thicknessing, can be done reasonably quickly and does not have to be pretty. It may even contain residual furrows from a scrub plane and tearout, so long as it does not contain cup, bow, or twist. Thus it can register properly against the bed of the thicknesser for the other side to be planed, then the board is flipped, and so forth.
Spending much more money on a good jointer, or worse, buying a cheap or narrow jointer destined for early obsolescence, will produce a flat face but the arduous task of hand thicknessing remains. The portable thickness planer quickly frees the woodworker from two of the most limiting habits in woodworking – using pre-dressed wood and defaulting to 3/4″ stock.
I like my DeWalt DW735. I use it with a dust collector but its blower allows use without one, making it easier to start up a shop.
Machine number two? Hint: it's not the table saw.
See these other great, related articles about portable or benchtop planers:
You might want to build an infeed/outfeed table for your portable planer
We tested 11 benchtop planers in this Tool Test
More in this series

• Machine Number Two: The Bandsaw