Inlaying Pearl, and Abalone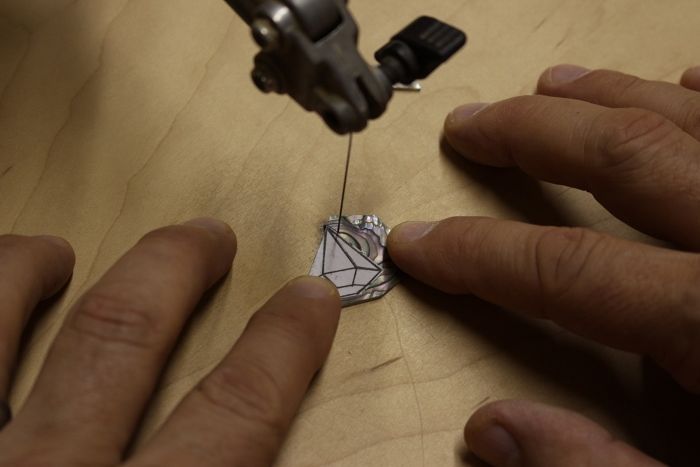 Cutting out the Pearl and Abalone and inserting into this marquetry panel was a little time consuming but very enjoyable. Using basically the Window Method for cutting in veneer. Cutting out the sharp corners were the toughest. You can use this method to inlay many types of materials veneers, hardwoods, shell, Pearl. & Abalone just to name a few.
 Cutting the Abalone on the scroll saw using a jewelers blade 3/0 61 TPI.
Cutting the Pearl on the scroll saw using a jewelers blade 3/0 61 TPI.
Using a straight edge and a sanding block with 150 grit sandpaper to straighten the edges.
 Epoxy the gem and star together, use a scalpel and a 10A blade to follow the edges to cut in the outline into the veneer.
With a small #2/5, and #2/3 carving knife's chisel out the veneer to the plywood.
The Pearl and Abalone are thicker then the veneer approximately 1/16" deep so you will need to cut deeper into the plywood. Next with the scalpel cut into the plywood by following the veneer edge.
Then repeat by chiseling out the plywood to where the pearl & abalone are flush to the veneer. It's better to not go to deep because the pearl & abalone can be sanded and finished just like the veneer.
To glue in the Pearl and Abalone it's best to use epoxy.
Use a clamping block with a plain piece of paper sandwiched between to prevent the epoxy from gluing to the block. I used a weight for a clamp, but any type of clamp pressure will work.
Finished Marquetry Panel with the Pearl & Abalone inlay.
Close up of the marquetry