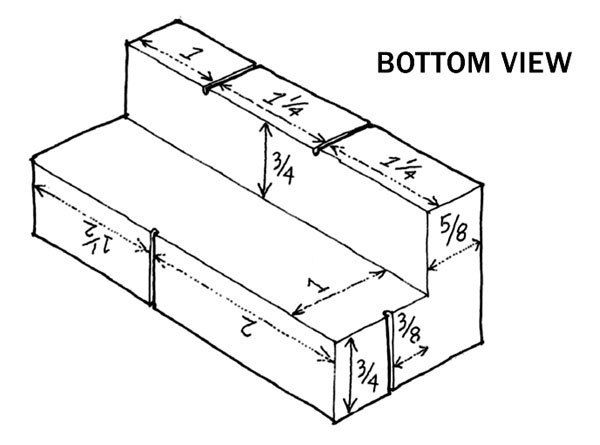 I often reach for this handy little shopmade measuring tool. It started as a single-use guide for marking holes 3/4 in. from the edge of a panel. Since then it has evolved into a multiuse tool with several common dimensions built in.
A primary use for the tool is to mark reference lines parallel to an edge. For example, if I am screwing two 3/4-in. pieces together at right angles, I use the block to mark a line at 3/8 in. to make sure the screws are centered.
When gluing one piece to another, I use the block to make a light pencil mark to show how far the glue should extend to minimize squeeze-out. I also use the tool like a miniature square to extend cut marks around a corner or from one face to another.
I made the block from hardwood scraps, using
a bandsaw to cut shallow grooves at several common dimension points. Vary the measurements to suit your own needs.
Drawings: Jim Richey

Drawings: Jim Richey