Hide adjustable shelf pins in post-and-panel furniture
Notched drilling jig helps make shelf pin holes harder to detect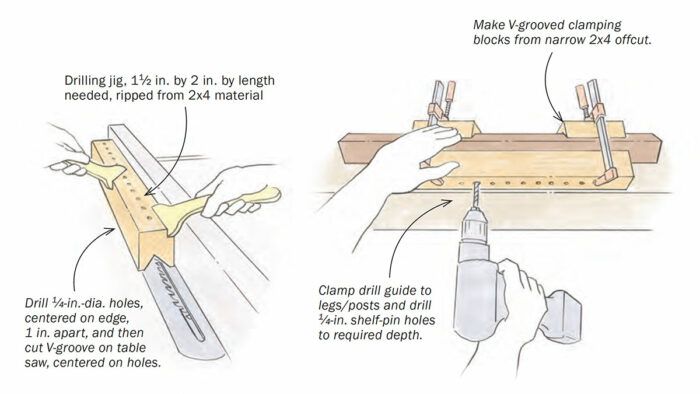 Shelf pins are used most often in flat-sided furniture and cabinets. Here's a way to incorporate them in post-and-panel pieces, whether those have full panels on the ends, or semi-open sides as shown here. With this approach, the pin holes are much harder to detect than usual, helping these pieces maintain their elevated look.
With the help of a notched drilling jig, I bore the shelf-pin holes diagonally into the inside corners of the posts. Then, to help hide the front rows of holes from view, and create a cleaner look all around, I chamfer the posts where the holes are drilled. Last, I cut pockets for the pins in the bottoms of the shelves, hiding the pins there as well.
To make the drilling jig, I rip a 2-in.-wide piece from a standard 2×4, and then drill 1/4-in.-dia. through-holes along its centerline, 1 in. apart. Then I angle my table-saw blade to 45° and cut a V-shaped notch in one of the drilled edges, so the holes are centered in it. I cut the same V-notch in the narrower offcut from the 2×4, and chop up that piece to create a few clamping blocks.
The drilling jig is clamped to the inside corner of each leg, with the clamping blocks on the opposite corner to keep the clamps stable. Drilling is done with a 1/4-in. brad-point bit for clean results.
—JIM DINSMORE, Spokane, Wash.
Illustrations by Dan Thornton
From Fine Woodworking issue #305