Milwaukee - Fixed-Base Router 5615-20
This router from Milwaukee features handles that can be relocated to different positions on the housing and quick-release bit changing.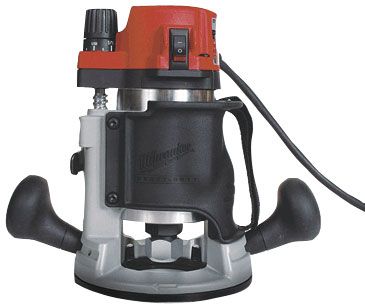 Milwaukee recently introduced a 1-3/4-hp fixed-base router, model 5615-20 (model 5615-21 is the same router with a storage case). And, as I soon discovered during a hands-on test, this is not your father's Milwaukee router.
For starters, my average-sized mitts found the soft-grip handles more comfortable than handles on most other routers. Ideally, though, I'd like them even a bit bigger. In addition to feeling pretty good, the handles can be moved to one of three positions on the housing.
Aware that some woodworkers occasionally guide a router one-handed, Milwaukee has made it easier by wrapping the aluminum base with a molded-plastic grip. And to provide further support, there's also an adjustable hook-and-loop strap that wraps over the back of the hand.
As fixed-base routers go, I found it better than most when it came to changing bits. The motor removed quickly from the base, providing easy access to the collet.
I was also impressed with the beefy collets Milwaukee uses on this router. It comes with two collets to accommodate bits with 1/4-in.-dia. and 1/2-in.-dia. shanks. Another plus—a large (2-1/2 in. dia.) opening in the plastic subbase allows room for big router bits.
Once the bit has been installed in the collet, it takes just a couple of steps to set the depth of cut. Pushing a motor-release button allows the motor to slide up and down for coarse adjustments. Then, to fine-tune the depth, it's just a matter of turning a micro-adjustment dial. A hefty steel lever locks the motor in place.
The depth-adjustment system has another feature that's pretty clever. Using any standard 3/8-in. drive hex-socket with a 1/4-in. extension, or a T-handle wrench from Milwaukee (an optional accessory), the micro-adjustment dial can be accessed through the subbase. That's handy when setting the bit depth while the router is sitting upside-down on its flat top. 
And the subbase access becomes even more useful with the router in a table. That's because once an access hole is drilled in the tabletop, you can use the socket (or T-handled wrench) to adjust the depth of cut from above the table, a position that is a lot more convenient than the usual under-the-table option.
On the unit I tested, runout measured 0.002 in., compared with an average of 0.00415 in. in a recent test of eight fixed-base routers. Those same routers had an average noise level of 95.375 db; this one measured 95 db. In the vibration test, the Milwaukee 5615-20 scored an "excellent" rating.
In use, equipped with a 1/2-in.-dia. straight bit set to make a 1/4-in.-deep cut and guided by a straightedge, I plowed three, 36-in.-long grooves in 3/4-in.-thick fir plywood. The 11-amp, 24,000-rpm motor made the cuts without any sign of bogging down.
The only features missing are variable speed and a soft start. If you expect to use bits much bigger than, say, 1 in. dia., it's nice to be able to slow down the speed. Milwaukee also makes a D-handled version of this router, model 5619-20.