Makita - Fixed-Base 2-hp Router RD1101 (D-Handle)
Makita's 2-hp fixed-base router features a variable-speed, soft-start motor, and a comfortable D-handle.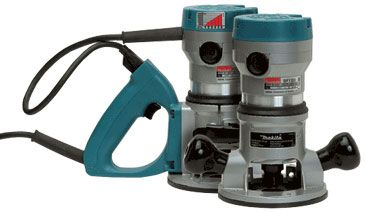 This router has a housing that slides smoothly and locks easily. It scored best in the noise and vibration tests compared to others in its category. Soft start and variable speed on the RD1101 are also pluses. And the openings in both subbases are small (a subbase with a larger opning is an option). The RD1101 is the most comfortable of the D-handles. Plus, the switch and lock are easy to use.