Jepson - Fixed-Base 2-hp Router 7112
Jepson's single-speed 2-hp router with D-handle features an easy-to-use switch.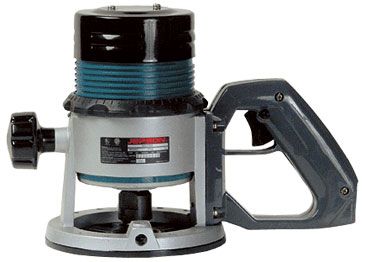 For all-around shop use, midsize routers make sense. At 2 hp to 2-1/4 hp, they have enough testosterone to handle most cuts without the bulk that can make bigger versions a chore to run freehand. I gathered all of the midsize fixed-base routers on the market and tested them in the Fine Woodworking shop. The test had three main parts. First, I considered the ergonomics of the routers, using them by hand and in a router table. Then I checked them for noise, runout, and vibration. And finally, I gave them a handheld run to see how effectively they plowed through wood.
The Jepson has an easy-to-use switch and switch lock (though they are less user-friendly in a table), and the knob for locking the motor works well. The housing tends to stick as it slides, and the machine is the noisiest of the lot. There's no variable speed, and the depth-adjusting ring is hard to read.