Bosch - Fixed-Base 2-1/4-hp Router 1618EVS (D-Handle)
Bosch's 2-1/4-hp fixed-base router features a variable-speed motor with soft-start capabilities. Also available with knob-style handles.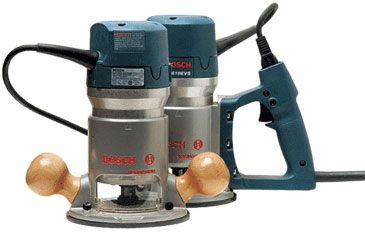 This routers can accept large bits and bit changing is a snap. The micro-adjust features work well, and the housing locks are rated as the best (tied with Makita). It scores well in the vibration category and have soft-start and variable-seed options. The switch and switch lock on the 1618EVS are seay to use. This model did well in the runout test, although it is a little noisier than average.