Bosch - Fixed-Base 2-1/4-hp Router 1617EVS
Bosch's 2-1/4-hp fixed-base router features a variable-speed motor with soft-start and a built-in router lift.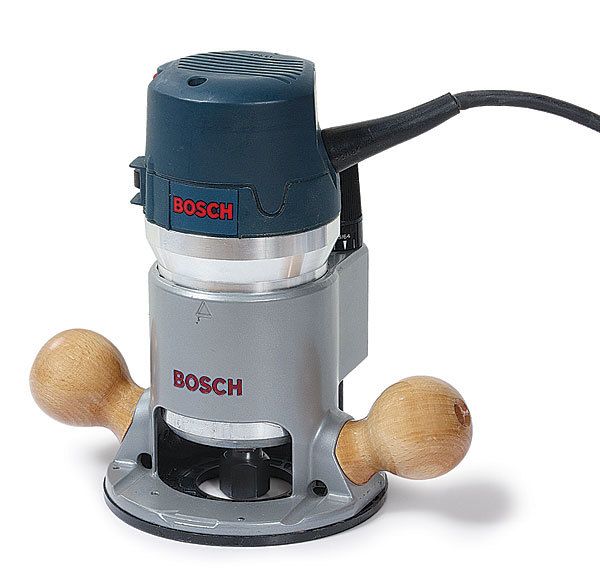 From FWW #243 (Nov./Dec. 2014)
by Marc Adams

Power: 12 amps
Street price: $170
Cut quality: Excellent
Router accuracy: Very good
Control and handling: Good
Cut visibility: Good
Ease of bit changes: Good
This router has a great soft start, is very well balanced, made very smooth cuts, and has an accurate micro-adjust scale on its rack-and-pinion depth system. It has two wrenches, and the base comes off easily for bit changes. On the other hand, the ball-shaped grips are slippery and the baseplate is black, which can hamper visibility.
From FWW #189 (Jan./Feb. 2007)
by Roland Johnson
The Bosch 1617EVS router is one in a new class of routers that features an integrated router lift that makes it ideal for use in a router table. We tested similar routers from seven manufacturers. Our tests included checking runout with a dial indicator and inspected how each router worked by testing it with a tall moulding bit.
The Bosch is nearly identical to the Craftsman 1617-12 and like that other tool makes bit-changing and height adjustment inconvenient. The problem is that the collet doesn't extend above the table when mounted in a router table and there is no spindle lock for changing bits. As a result, you have to reach under the table to make the adjustment or remove the router altogether. A plunge-base is included but that accessory lacks a built-in router lift.
From FWW #150 (July/Aug. 2001)
by Tom Begnal
For all-around shop use, midsize routers make sense. At 2 hp to 2-1/4 hp, they have enough testosterone to handle most cuts without the bulk that can make bigger versions a chore to run freehand. I gathered all of the midsize fixed-base routers on the market and tested them in the Fine Woodworking shop. The test had three main parts. First, I considered the ergonomics of the routers, using them by hand and in a router table. Then I checked them for noise, runout, and vibration. And finally, I gave them a handheld run to see how effectively they plowed through wood.
This Bosch router can accept large bits, and bit changing is a snap. The micro-adjust features work well, and the housing locks are rated as the best (tied with Makita). It scores well in the vibration category, and it has soft-start and variable-seed options. The 1617EVS has the most comfortable of the knob-type handles. This model did well in the runout test, although it is a little noisier than average.