Blog
The Bandsaw Is the One Power Tool Every Hand-Tool Woodworker Needs
A 14-in. bandsaw saves you a lot of time and sweat, letting you reserve hand tools for the fun stuff.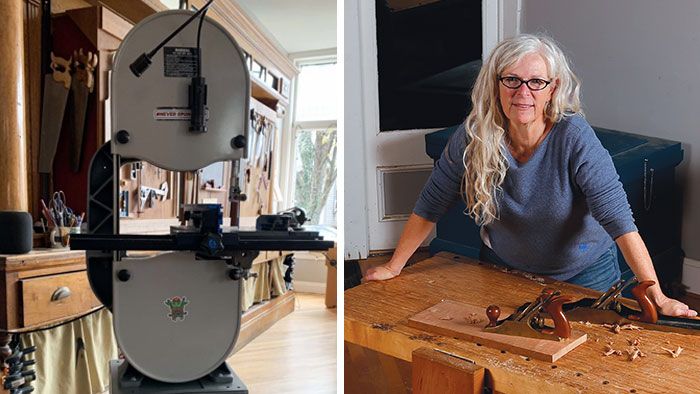 While all of the classes I teach are hand-tool-based, I do use machinery; I would not want to prep the lumber for an English tool chest class by hand! But if I had to choose an only one-tailed tool as an adjunct to my hand tools, it would be the bandsaw (a tool I don't use for tool chest prep, as it happens). In particular, it would be a no-frills 14-in. U.S.-made, circa 1980 bandsaw, like the Delta Rockwell we have in the shop.
With a 14-in. bandsaw I can make straight rip cuts all day long – or at least straight enough that I can easily clean up the cuts with a jack or jointer plane. Working by hand, I can make only a few long rip cuts before I need a nap. I can use the bandsaw to cut tapers for legs and cut the occasional curve. And I can resaw boards up to 6 in. wide (which comes in handy when making ½-in.-thick tool till parts). I can trim the ends of boards, cut tenons, cut thousands of wedges (my floors are uneven, and we use them in lump-hammer assembly)….
And the bandsaw is probably the safest stationary power tool (so safe that we let students use it in stick chair classes to cut curved bevels) because it pushes the work down onto the table (instead of possibly throwing it back at you like the tablesaw).
So why a 14-in.? It's long been the most common size in small shops, so it set the standard for aftermarket add-ons should you need them (fences, zero-clearance inserts, miter gauges, guides…). And it's dead easy to find the 93-1/2-in.-long blades that are standard on this size. (We typically use Woodslicer blades from Highland Woodworking – for which we pay full price, of course). Plus, the machine is small enough that we can easily tuck it into a corner (on its shop-made mobile base) when it's not in use.
We used to have a 17-in. bandsaw at the Lost Art Press shop; neither Chris nor I used it. (OK…I used it once in a while; its table was conveniently located for the stacking of parts.) If I turned bowls or cut a lot of wide veneers, I might miss it. But I do not.
And why older and American-made? It's not so much the age or country of origin that matters as it is the quality that was present in older, American-made models. The trunnions are cast iron, the metal handles are easy to grip and turn, the wheels are a less-spindly aluminum than what you find today.
There are a few "upgrades" on the Delta, however, that are worth mentioning. The original belt has been replaced with a PowerTwist V-belt (about $50), we have a zero-clearance insert ($5), and a Kreg fence ($119). Oh – and aftermarket Carter guides, but only because the original ones gave out after 40 years (a pretty good run). And I have an apple box to stand on while I use it. (This is what happens when you share a shop with someone almost a full foot taller!)
And if I got to add a second power tool to my list? It would be the thickness planer. Using hand tools might help keep you in shape … but a few power tools help you to use them for more enjoyable tasks than ripping and thickness (and help to keep arthritis at bay).
---