Blog
The Best Power Tool for Apartment Woodworking
This whisper-quiet tool doesn't sacrifice precision.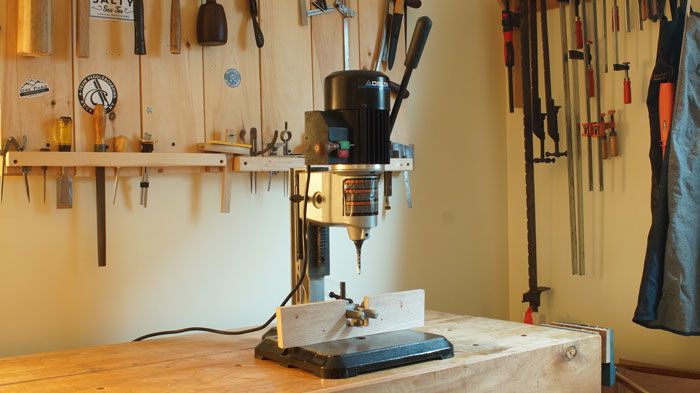 My home shop's in the spare bedroom of my apartment—less than ideal, but it lets me woodwork, so I'm still pretty lucky. My apartment itself is the first floor of a converted house; a young couple and their one-year-old live above me. Because of noise concerns, I work mostly with hand tools—again, less than ideal, but it lets me woodwork. I recently finished a project that involved about 26 mortises. While I could have waited to chop those out by hand when the neighbors weren't home, the proposition seemed hairy. If nothing else, it would have made the project even longer to finish, and I'm already pretty garbage with deadlines. (Don't tell my boss.) Enter my favorite power tool for apartment woodworking: the hollow-chisel mortiser.
A unitasker taking up valuable space in a cramped room? Absolutely. Keep in mind it's hard to do woodworking without mortise-and-tenon joints. Unfortunately, making mortises is, typically, pretty dang loud. But a hollow-chisel mortiser is whisper quiet—like a big cat purring. If you're not familiar with the sound, it's almost the same as a drill press. The only time it gets noisy is if the bit's dull or not set up correctly, two things you should be avoiding regardless.
So if it's as quiet as a drill press, why not just get a drill press, which is much more versatile? Honestly, I never took to mortising with one. The lack of control when paring a series of round holes into a rectangular mortise bothers me. While a mortise chisel (or bit) makes a mortise as wide as itself, mortising on the drill press involves boring holes slightly smaller than the mortise before paring to your lines. If I blow past these, though, my tenons can't be uniformly thick. That's pandemonium. With the mortiser, there is no such problem.
Tool Test: Benchtop Mortisers
These fast, accurate drilling machines
cut square holes easily

Well, what about a router with a fixed base and a plunge base? They're outrageously versatile and probably more affordable—so definitely more bang for the buck. The catch is they're as loud as a pack of banshees. Plus, routers vomit dust and chips, and seeing as my shop is right off my bedroom, I want to keep things clean. A shop vac would help, but again, noise.
That left me with a hollow-chisel mortiser. I picked mine up used for $175 and haven't looked back, especially after setting it up with the help of Rollie Johnson and Matt Wajda. It's afforded me a level of freedom, speed, accuracy, and repeatability that are hard to beat, especially in a hand-tool shop.
Next up is a bandsaw—just as soon as I find a place to put it.
N.B.: For what it's worth, I do have a benchtop planer. That lives in the shared basement, where it's in a box when not in use. It's hands-down my favorite power tool, but it's crazy loud, making it a fairly firm no-go for apartment dwellers. If you can make it work, though, get one before any other power tool.
For more on hollow-chisel mortisers, click these links: