Blog
Must-Have Table Saw Accessories You Can Make
While the tablesaw is plenty capable by itself, you can pump it up even more with a handful of jigs, fixtures, and accessories.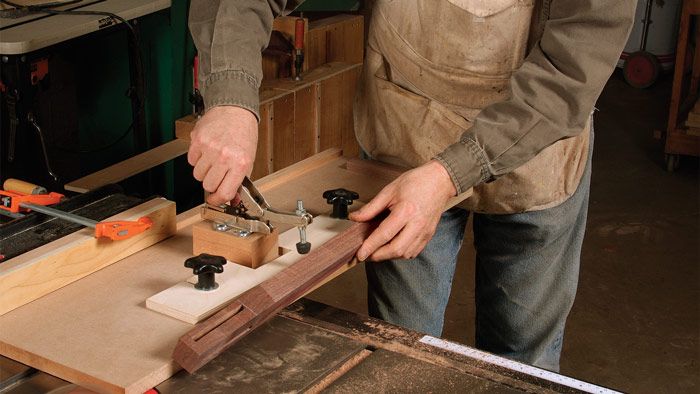 An old cliché is to call a table saw the heart of the shop, but cliché doesn't mean wrong. What would be wrong, though, would be to stop at the table saw. While the tool is plenty capable by itself, you can pump it up even more with a handful of jigs, fixtures, and accessories.
Consider this a checklist of must-haves. No one item is particularly fancy—some can be made in less than an hour—but taken together, they'll help you produce better work more safely, and that will warm anyone's heart.
---
Keep your hands away from blades and cutters, and hold work securely with this vital shopmade accessory.
---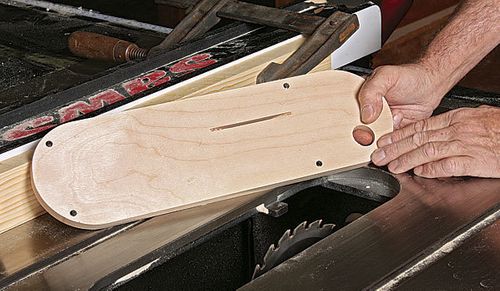 Eliminate tearout, reduce the chances of kickback, and solve the problem of a throat plate that gets jammed with little offcuts by making your own zero-clearance table saw inserts. It's simple to do, and you can make a bunch of them with slots sized for different blades. Woodworking teacher Bob Van Dyke shows you how. The increased safety and precision you'll get will be worth the short time spent.
---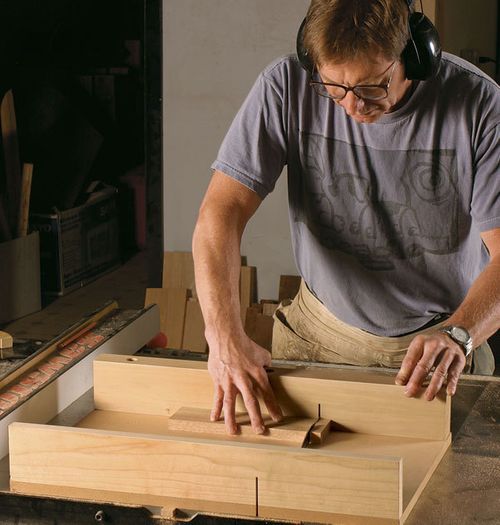 Woodworking goes better when angles are precise, true, and consistent. Gary Rogowski's table saw crosscut sled can help ensure this result. He uses the jig to produce square ends on stock, make consistent repeat cuts, cut precise angles, and cut a variety of joints. He relies on the jig to help him do all of this work safely and with greater accuracy. Rogowski's sled is a versatile tool with a few carefully assembled parts. Its accuracy relies on close-fitting hardwood runners and a square fence.
---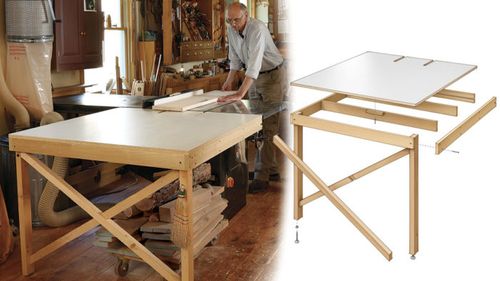 This outfeed table is simple, functional, and versatile. And although you can find fancy outfeed tables with drawers, doors, or other embellishments, this is really all you need, whether you're adding capacity to your table saw table or using it as a drawing surface or a glue-up station. Made of melamine-covered particleboard, it has two legs reinforced with cross-pieces, and attaches simply to the table saw, either via a groove that mates with the saw's angle iron or by being bolted to the flange. The size is up to you, based on the work you do.
---
Whether shopmade or manufactured, a featherboard is a valuable third hand that keeps workpieces tight to the fence or tabletop as they pass a blade or bit. Not only do featherboards add accuracy and consistency, they also prevent kickback and help you keep your hands away from cutters. Learn the basics of how to choose the right featherboard for the job and correctly position it for consistent, safe cuts.
---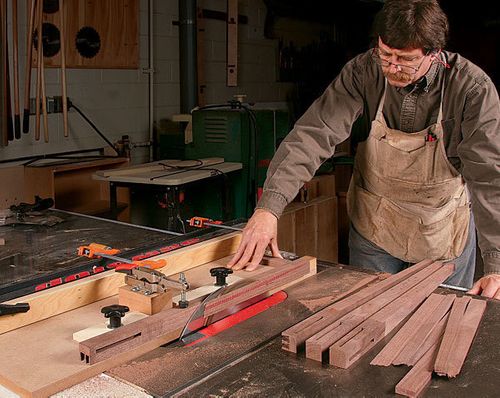 Found across a range of furniture styles, tapered legs are popular because they are good-looking. They break up a square, boxy piece of furniture and direct the eye toward the center. But cutting them accurately and safely can be a challenge. This tapering jig for the table saw makes it easy to set the location of the workpiece accurately for perfect cuts, and because it has a built-in clamp, keeps your fingers far from the blade. An L-shaped guide clamps to the rip fence to guide the jig, and a hardwood strip keeps the workpiece in place. You can use it to cut tapers on two, three, or four sides of a leg.