Shop Tips
High-Low Drill-Press Fence Does it All
Shopmade table and fence make it easy to use stop blocks and hold-downs for accurate, safe, drilling.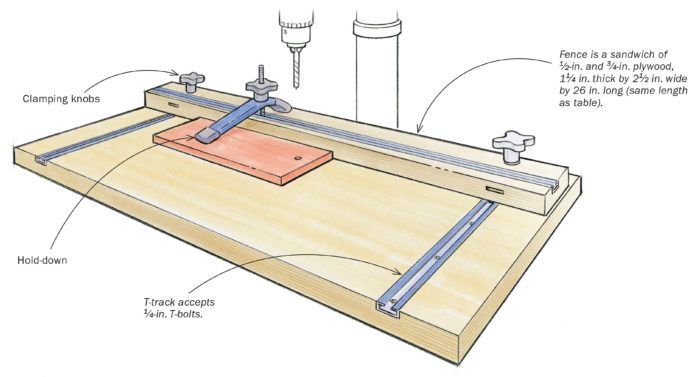 When using my drill press, I find that some workpieces need to be held down firmly, while others benefit from a stop block for repeat positioning. This two-position drill-press fence does both jobs perfectly. I can use it upright with a stop block or down low with a holddown— either one positioned anywhere along the fence's length.
The fence attaches and adjusts quickly in both positions by means of T-tracks in the table. The fence is a plywood sandwich that I dadoed for the T-track and bolts. For the T-bolts that secure the fence to the table, I just drilled holes.
The hardware is from Rockler.com.
—DEAN M. VANDE GRIEND, Story City, Iowa