Shop Tips
Easy-to-Make Drill-Press Fence
Improve the accuracy of your drilling with this shopmade, adjustable fence.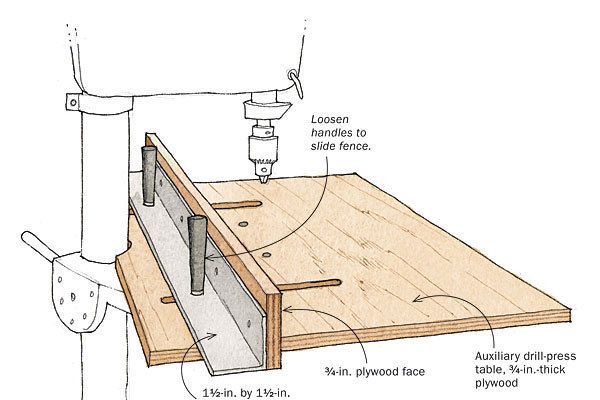 This quick-to-make drill-press fence is a big improvement over the clumsy strip of wood and two clamps that most of us use. The fixture consists of a 3/4-in.-thick plywood auxiliary table and a movable fence. Attach the auxiliary table to the regular drill-press table-arrangements will vary from drill press to drill press. Make the fence from a length of 1-1/2-in. by 1-1/2-in. aluminum angle faced with plywood. The fence adjusts via two slots in the plywood table and locks in place by tightening vertical black handles that engage industrial T-nuts below.
You can get both items at www.grainger.com: items No. 2YJL1 (T-nuts) and No. 4X501 (handle).
Drawings by Jim Richey

Drawings by Jim Richey