Shop Tips
Tablesaw Sled Makes Safe, Precise Cuts At Any Angle
This sled is ideal for cutting tapered legs and irregularly shaped workpieces.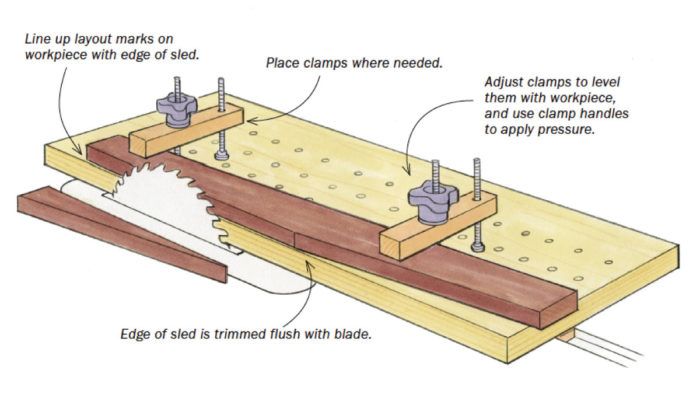 Like a lot of ideas, this simple but very adaptable tablesaw sled is a hybrid of several others. I don't know of another sled that is as versatile, accurate, safe, and simple to make. Whether you are making tapered legs or irregularly shaped workpieces of any kind, this sled can do the job.
It's made from a leftover scrap of high-quality plywood with a matrix of holes drilled in it, each counterbored on the bottom to accept T-nuts. The T-nuts accept the 1⁄4-20 threaded rods I use to to create simple hold-downs on top. Underneath, there is a runner made of UHMW plastic sized for the miter slot on my tablesaw. A hardwood runner will also work. Because the sled is made in the usual way—oversize and trimmed with an initial pass on the saw—there is a zero-clearance edge that shows you exactly where the blade will cut. Position the clamps as needed, line up your layout marks with that edge, and make perfect cuts right on the line every time. You can make the sled any size; if you have an outfeed table just make sure you have a clearance slot in it for the long miter-slot runner.
— Bill Lindenfelser, Rochester, N.Y.
Drawings: Dan Thornton
From Fine Woodworking #272