Projects and Plans
Turned-Leg Ladderback Chair
With its roots in a classic three-slat design, Tim Manney's modern ladderback is built from straight-grained maple with turned legs.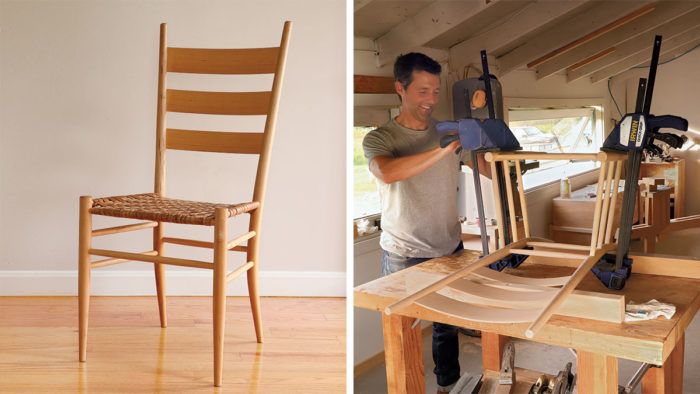 Synopsis: This ladderback chair has its roots in a classic three-slat design. Bent back legs add a bit of liveliness. It's built from straight-grained maple boards, not the traditional green wood split with a wedge and froe. The legs are turned at the lathe and then the rear legs are bent using a steambox and bending jig. The back slats are also steam bent. Clever jigs simplify drilling the mortises for the rungs and slats.
---
I've always admired the simplicity of the ladderback: It's a chair reduced to the minimum components necessary to hold up a human body, nothing extra. For years I devoured images of ladderbacks, hoping to be able to draw on a catalog of ideas to design a good chair of my own someday. Two of the chairs that most influenced me were a three-slat ladderback made by Dave Sawyer and an Italian Chiavari chair from the 1950s. The Italian chair had a bend in the rear leg below the seat and looked alive, like it might scamper off at any moment. Dave's chair had a warm, simple appeal that felt like you could live with it forever and grow to appreciate it more with each passing year. I wanted to combine some of the liveliness of the Italian chair with the sweet, understated subtlety of Dave's chair. The chair I'm building here is my latest effort toward that.
Material selection
When I was learning to make chairs, I was taught to split out parts from logs with a wedge and froe. That's a great way to guarantee strong, straight grain for slender, bent parts. But now that I have less access to logs and less space to store them, most of my chairs begin with a trip to a well-stocked lumberyard. I generally select 8/4 boards because the quality is often higher than I find with 6/4 stock.
For this chair I chose hard maple, a wood I think is wildly underappreciated. I look for boards with perfectly straight grain, and for all parts of the chair except the slats I prefer flatsawn boards to quartersawn ones. A flatsawn board that looks like it has straight grain is generally sawn with the fibers of the tree; a quartersawn board may have straight lines on its face, but the edge will often reveal that the fibers have been sliced through at an angle. Bending parts from boards like that will increase the number of workpieces that end up in the woodstove.
Turn and bend the rear legs
After the parts have been sawn from the plank, I take the rear leg blanks to the lathe and begin turning with a gouge. An extralong tool rest for the lathe makes turning these legs far easier. I described how to make one, and how to add an extension bed to a benchtop lathe to handle these long legs, in FWW #279 (Make a Long Tool Rest for Your Lathe). After I finish with the gouge, I do a final pass with a spokeshave or a block plane with the lathe spinning to eliminate any lumps and bumps before sanding.
From Fine Woodworking #280
To view the entire article, please click the View PDF button below.
---
View PDF