How-To
Make a Post-and-Rung Stool from Green Wood
Learn how to use riven stock, wet/dry joinery, and natural hickory bark for the stool seat.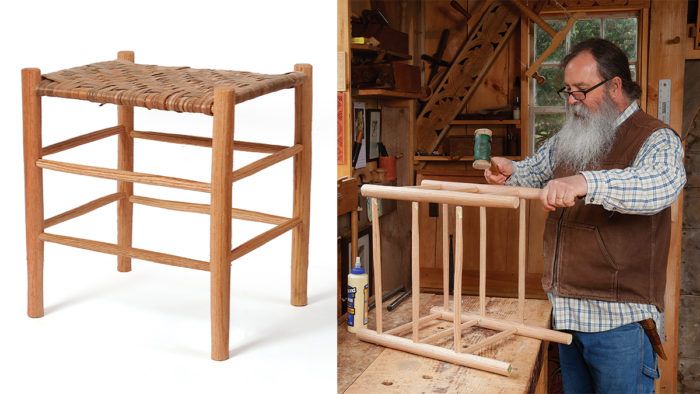 Synopsis: Using methods learned years ago from his mentor, Jennie Alexander, Peter Follansbee builds a post-and-rung stool with a hickory-bark seat that is designed to stand the test of time. Learn how he rives the parts from a log to get continuous, straight grain. Then see how wet/dry joinery ensures super-strong construction.
---
Making furniture from green wood can be intimidating at first. Never mind riving out the parts from a log, people used to getting stock from the lumberyard often get spooked by the idea of their wood shrinking as it dries. Truth be told, though, you can use this shrinkage to your advantage by making joints that lock together tightly. I learned this building method from Jennie Alexander, my friend and mentor, who used it for her post-and-rung stools and chairs. If done right, this method lets you construct light, strong furniture that will easily stand the test of time. The hickory-bark seat, which only gets nicer with use, is the cherry on top.
Parts are split out from a log, shaved to shape
I make these stools—and chairs like them—from straight-grain riven stock. When you rive wood you naturally get continuous grain, which yields the strongest parts and makes shaping them with a drawknife and spokeshave a lot easier. If you want to use sawn lumber instead, be sure to use boards with straight grain.
Using a froe and mallet, I split out parts slightly oversize in thickness, width, and length. I like to use green ring-porous hardwoods, like oak, ash, or hickory, which split the most reliably.
At the shaving horse, shave a face with the drawknife before roughly squaring an adjacent face to it. Then shave the parts square and to size. Follow the fibers even if they aren't perfectly straight. Because marking gauges don't work well in fibrous green wood, I use a sizing gauge, a scrap of wood with two notches cut in it. One is 3/4 in. square for the rungs, the other 1 3/8 in. square for the posts. With the posts square, shave them into octagons and let them dry.
From Fine Woodworking #277
To view the entire article, please click the View PDF button below.
View PDF