Projects and Plans
A Box Worth Repeating
A dovetailed piece this beautiful shouldn't be one of a kind.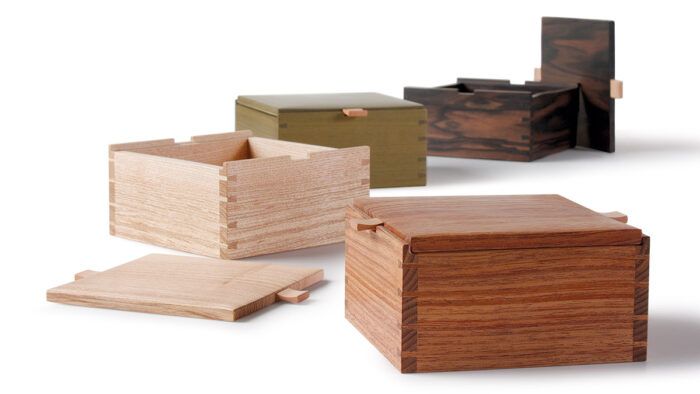 Synopsis: Making boxes is a great way to explore the idea of building things in a series. When you change the small-scale details, you can change the look of the overall piece. And boxes are simple to make, which allows for more design exploration. This box is a simple square, dovetailed and half as tall as it is wide, with a drop-on lid that is slightly pillowed. The lid has small handles to lift it and help hold it in place. Also included is a gallery of design ideas, for a series of boxes or one box at a time.
---
I first made this box several years ago as part of a series for an exhibition organized by the Crafts Council of Ireland called "Of Colour in Craft." Artisans in various disciplines were asked to make pieces that used color prominently. I chose to make identical boxes in 10 species, each a different color.
Boxes are a great vehicle for exploring design ideas in a series. Small and simple in form, they can easily be grouped to create an arrangement with a strong character of its own. Making boxes also is a good way to spend time between bigger projects, to use leftover wood, or to make gifts.
This square, dovetailed box is half as tall as it is wide, with a drop-on lid that is slightly pillowed. The lid has small handles to lift it off and help hold it in place. The project offers a chance to practice hand skills and to execute the small-scale details that make all the difference. It is very satisfying to make.
Mill and mark, then cut the joinery
This box only uses about half a board foot of lumber. If you're making a set like mine, you'll want variety. Trawl through your scrap pile (and those of your friends), and scour the odds-and-ends bin at the lumberyard for pieces with great grain patterns.
Rough-mill the stock oversize by about 1/8 in. in thickness and width. Don't crosscut the sides to length yet; they'll be too short to go through the planer for final milling. Sticker the wood and let it sit for several days before thicknessing to final dimension. Afterward, lightly handplane what will become the internal surfaces of the box to get them very close to final prep. This is also a good point to confirm the orientation of the workpieces to avoid confusion when cutting the joinery.
At the tablesaw, rip the sides to width and crosscut them to just over finished length. I trim them to exact length on a shooting board, then check the ends for square.
From Fine Woodworking #240
To view the entire article, please click the View PDF button below.
View PDF