Crafts fairs: What to sell
Give yourself time to find out what sort of seller you are.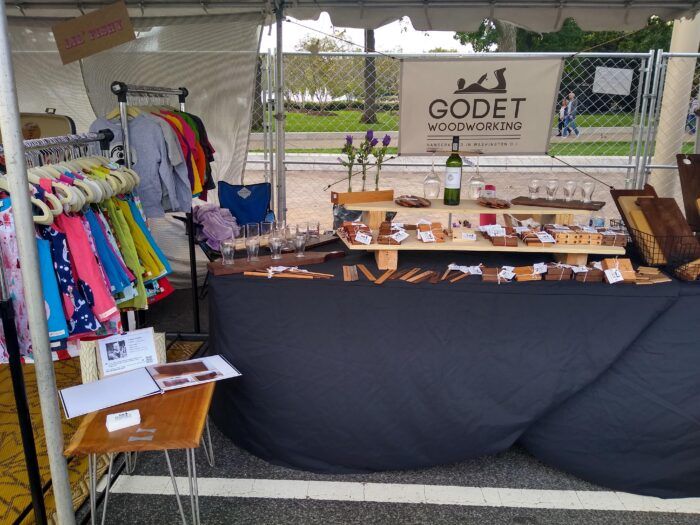 OK, we're two posts into this series already: It's time to talk about actual woodworking!
What should you make to sell at the market?
Here's the thing: You have to figure this one out for yourself and it's likely going to take a minute. But here is some guidance.
Set yourself apart from the rest
You should make things you enjoy making and that are in some way unique. This doesn't mean you have to invent a new device using only upcycled scrap wood and found items from the local Goodwill. Not at all. In fact, people will expect a woodworker at a market to have at least some of the following: cutting boards, bowls, chess boards (Thanks Queen's Gambit), wine bottle stoppers, coasters, salt bowls, pepper grinders, etc. Certainly, you can go beyond these items, but a few of these are a good start.
The next trick is to make products that are unique and will work with your market. This is because a simple rectangular cutting board with rounded corners, etc., is probably cheaper to buy at Ikea or even a home goods store with higher quality items (no shade on Ikea … ok, a little). Instead, push yourself creatively and to offer something unique that also demonstrates your own voice. You may also want to focus on your local community. In Washington, D.C., our community shows its local pride with a pretty simple flag (three stars, two bars). I have paid rent by making wooden versions of this flag as coasters, wall hangings, bookmarks, etc.
Customization is a great way to make your products stand out and appeal to your local market. I use customized branding irons to put stars and other icons on my goods. My buddy and fellow D.C .woodworker Quinn uses a laser, but is also an expert in image transfers (transferring a printed image onto a piece of wood) and is also quite good with a wood-burning pen. One of my favorite Instagram feeds for home goods is Chopd.woodshop; Nick creates some incredible patterns and designs in high end, end grain chopping boards.
The main goal is to find a way to differentiate yourself from other woodworkers and appeal to your local base (or an internet base). How you do it is up to you, but I have had success, and seen others have success, with these basic principles.
What about furniture?
Some of you, perhaps many, would prefer to just make and sell furniture. I applaud that and it's the core of my business too. Here's the thing: Selling furniture at a craft show or holiday market is a rough business. Most people going to those shows are not looking to spend serious money or make a major investment. They are looking for something small, unique, or a good gift, a little dopamine hit/retail therapy–not a domestic upgrade. Separately, making completed pieces, packing them, moving them, setting them up is a lot of work and now your fine furniture is out in the weather. In my experience, it's best to stick to the small stuff at these shows. AND, bring a book of photos, an iPad, a poster, or whatever, that shows your best work. Bring lots of business cards and talk to everyone. Maybe you'll get a commission out of the deal.
If you really want to focus on furniture at these shows, here are some thoughts. There are specialty shows for selling and displaying furniture. While I don't have experience with these, I asked fellow woodworkers for their insights. Mike Jury (Mjurywoodworks on IG) is an incredible craftsperson working a lot in the Shaker style. Mike says to look for "Fine Arts Festivals," especially ones that are juried, to ensure you're surrounded by quality makers. "Furniture is not an impulse buy, so have items you can sell for $50-$200 as well," he says. If you're going to go this route, these shows are a good way to get commissions, according to Mike, because people can meet you and get a sense of pricing, etc. He also suggests committing to doing the same show for several years to really see it pay off.
Christina Boy is one of my favorite furniture designers and an incredible craftsperson who has been on the scene for a while. Christina agrees with Mike that doing the same show for a few iterations is a good practice. "Furniture is something people need to think about and you want to be top of mind for when they are ready for that piece.  So if there was a lot of interest but not a lot of follow up, do that show again and see if they return." Christina also mostly sticks to furniture at these fine arts shows (despite having a line of really cool home goods). "A few years ago I made a conscious decision to no longer take a lot of smaller items with me. This was a scary decision as the small items often cover fees and expenses at the show, but I wasn't getting a lot of follow up from those sales. However, since cutting those out, I have been selling more furniture. And once customers start collecting your work, they will come back year after year."
Play the long game
Both Mike and Christina consider these shows a long game. As Christina said, "Sometimes you don't know whether your show was a good one until weeks, months, or a year later. You never know what kind of ideas you've triggered in people until they've had time to process or when their memories are triggered the following year when they see you at the show. So don't get discouraged when your first show is a dud."
Whether you're making furniture, home goods, or steampunk telecommunications devices, the main thing is this. It might take a few tries to dial in your designs and processes. Start small and learn from your experiences.
Previously in this series