Crafts Fairs: Marketing, branding, and displaying your goods
It's time to bring your A-game to the marketplace.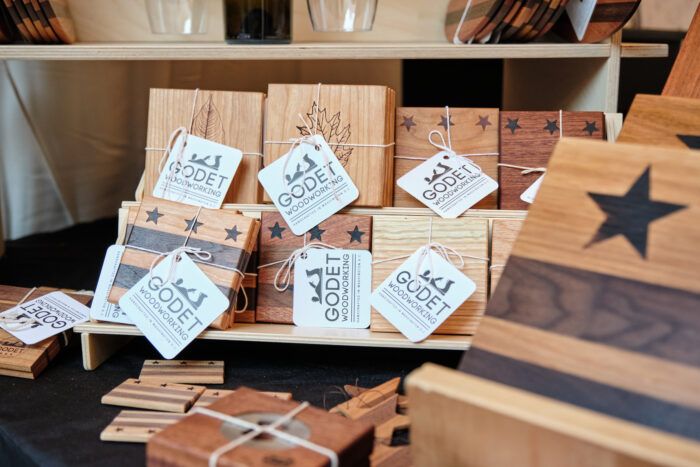 Now that you have a plan for all the logistics and what to make and sell, you need to think about presentation. First and foremost, your work should speak for itself, obviously. Bring your "A game" to the public. However, even the finest work, if presented poorly, will not sell as well as it could.
Put some effort into your packaging
Something I've learned through experience and guidance from others in the field is the crucial importance of packaging. Your items should have, at a minimum, a tag with a logo, a name/description of the product, and a price. While many customers will want to speak with you, plenty will prefer to quietly look, learn, and think without interruption. A descriptive tag and price acknowledges this.
Packaging, in my mind, is courtesy to the customer in the same way that wrapping a gift makes it a little more special. Sure, you'd love that new Lie-Nielsen smoother plane as a gift even if someone just handed you the cardboard box. But the fact that they wrapped it and put a bow on it just makes the experience a little more special. Right? Right. So I encourage you to go the extra mile/kilometer here.
Don't forget the logo
A word about logos. You should have one. Unless you have a background in graphic design, you should pay someone to do it for you. There are a lot of factors that go into logo design and that should be respected. That being said, good logo design is not cheap and it may not be a great idea if you're just getting started. Services such as Fivrr can offer reasonable solutions and having something decent is better than nothing at all. Even just your name/business name in a nice script on an attractive blank card will suffice. But have something. A logo will communicate a lot to your customers. Think of your favorite brands, or a product you use all the time: Apple, Coca-Cola, Vans, Lee Valley, Festool. You immediately see their logo, their color palettes, etc. It will help you. Trust me, put some time into this.
My logo was designed by a professional designer. I made her a table in exchange. The logo includes one of my favorite tools and a clear bold font. It is simple and it works and I like it.
Your display ties it all together
While packaging is crucial for your individual products, how you display everything is maybe even more important. There are a lot of considerations here but primarily, your items should be easy to see and touch; everything should be bombproof safe (remember, wind gusts and acts of god can happen at any time). Two schools of thought are worth noting here: the "stack it high and watch it fly" method (common with produce, think Whole Foods) or the "boutique" method (display one or two of what you have to give the appearance of scarcity and allow the eye to focus on the items). I tend to use a blend of these.
Something to avoid: If you're old enough to have shopped in a record store for even CDs, that is the method I used to display my cutting boards initially: a crate with boards stacked vertically. While this is OK, the boards will slip and bang into each other. While you might not incur damage to your products, your customers will be startled by these sounds and less likely to buy something.
Your displays can vary depending on the space you have at a show, and how long you're going to be there. For the long holiday market I do, my boothmate and I spend a whole day building the booth and setting up. We are there eight hours per day for five weeks so it's the worth the investment. For a one-day show with only an hour or two to set up, I do something a bit simpler. Generally though, you need to think through how you want to display your items and actually build those displays. Since what we do as woodworkers is often bulky (it's difficult to display many cutting boards), think about using vertical space. Again, I encourage you to look around: Chopd Woodshop has great displays in his IG feed.
More in this series