Crafts fairs: Pricing
There's no secret formula, but there are a few pointers for figuring out what to charge for your wares.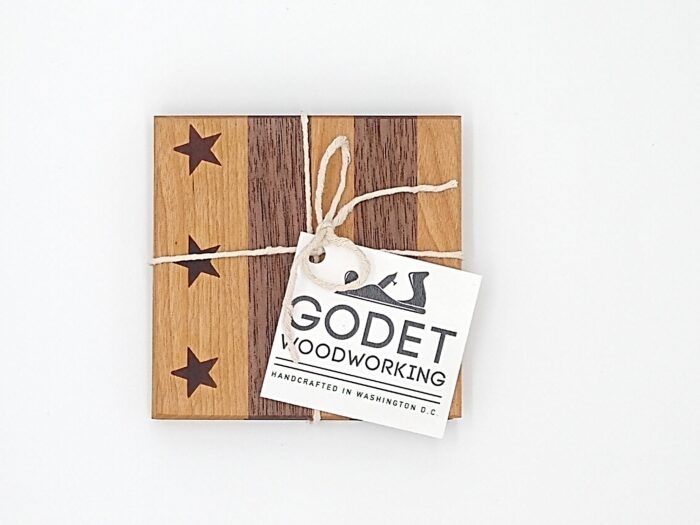 Today, we're talking about pricing your goods. This is one of the most challenging parts of the business and what I'm about to share is not the secret formula you've been hoping for. It's just what I've learned and what I think is helpful for people to know.
When people are just getting started, they are often eager to sell their wares and sometimes price things lower than average to attract sales. Additionally, I've heard people say they have a job and don't need the money from the sales, so they mark their products lower. While I see their point of view here, I discourage people from doing this, mostly because pricing your products lower for either of these two reasons artificially decreases market prices/customer expectations for people in your area who are trying to make a living. At a larger level, it devalues the inherent worth of handmade/craft items in a world where that view is already too common.
How I think about pricing goods
Essentially, I need to cover materials (including packaging and consumables such as sandpaper, glue, finish, etc.), my own wages, the wages of my contractors, and wear and tear on my equipment. The price should include not only these variables, but also profit to cover overhead (rent, gas, property/liability insurance, worker's comp insurance, etc.) and future investments. Now, if you're doing this on the side out of your basement/garage and have very little overhead, that can be a competitive advantage and allow you to have lower prices. Similarly, if you rent a larger space and have larger equipment, you can make more things faster (potentially) and similarly lower costs in that way. You'll have to do the math for yourself.
Let me walk through the pricing of one of my most popular items: the DC flag coaster. These coasters sell for $25 per pair.
Materials
Each coaster is about 3-1/12 in. square by 3/8 in. thick. They are sold in pairs so we're looking at about 1/10 of a board foot per pair. The wood is a combination of cherry and walnut, so we'll average it out at around $10/board ft. That comes to $1 in wood. The tags I use cost about 15 centseach. Cork feet come to about 11 cents per pair. I spray lacquer on the coasters. The product I use costs $72/gallon. I do a batch of 100 pairs of coasters at a time and use about 75% of a gallon for that batch. That comes to about 54 cents per pair in finish. Add about 1 cent in string for packaging. Our total on raw materials comes to $2.22. So far, things are looking pretty lucrative, right? Let's keep going.
Each batch of 100 coasters takes roughly 10-12 hours to complete, including finish. Packaging is probably another two hours. We can safely add in another hour or two of incidentals (looking for the tape measure/ router bit, cleaning up, etc.) I bill out my time at $80/hour (more on that), so we're looking at 15 hours for 100 pairs of coasters. That comes to $1200, or $12/pair of coasters. So, our total cost per pair of coasters is at $14.22.
Doing the math
Calculating overhead into the price of a product is tricky, but let's go ahead and wade in there a bit, shall we? I rent space in a shared shop. This gives me access to wonderful tools, such as a wide belt sander, a spray booth, and a sliding tablesaw, etc. My rent is a very reasonable $600/month. If I did nothing but make coasters for two days straight, and assume that I work a common 5 day work week, 4 weeks/month, I've used 10% of my month on 100 pairs of coasters. So that's $60, or 60 cents per pair. By the time we add in things like glue and sandpaper, we're easily over $15/pair in costs alone. And we haven't considered things like booth fees, etc. This does not take into account all of the time it took to design the product and the process to make them this quickly and reliably well.
Back to the pay rate. Does $80/hour seem like a high rate to you? Maybe more than you were expecting? Part of that calculation is that in this business, you do a lot of work that is not paid. When I am designing a project or doing my bookkeeping or making a jig or cleaning my shop, maintaining a tool, I am not actively getting paid for that work. There's a lot of time that goes into running a business in which you're not really "billing" anyone or making money. So when you're figuring out your rate, you need to account for that. Trust me, I don't make $160,000/year. Not even close.
Weigh your options
You also need to figure out if making any particular item makes sense. If there was another person in town here selling something very similar for far less, I would not bother competing with them. Or, I would make fewer but try to make them higher quality. These are all considerations, some of which are completely outside of my control.
If you're not trying to make a living and just trying to sell a few things and have a good time, I recommend simply going to a few shows in your area, see what similar items are selling for, and then try to be in that neighborhood if that makes sense for you.
More in this series