Tool review: Infinity "Quick-Snap" vacuum hose and adapters
Asa Christiana checks out some versatile vacuum hose adapters.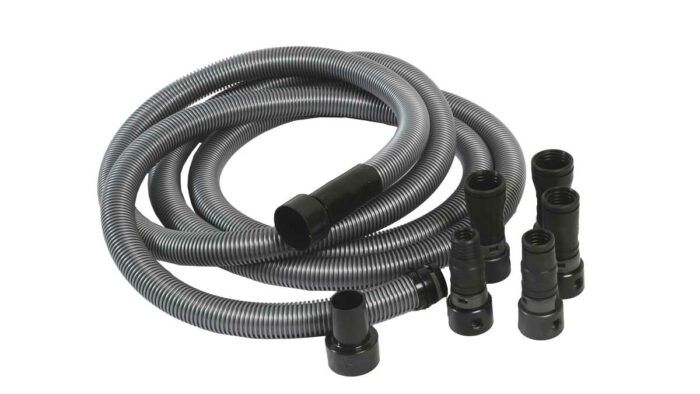 The marketplace is littered with adapters for connecting shop vacuums to power tools, and so is my shop. Yet I still have a few frustrating connections that require frequent applications of duct tape, an imperfect solution at best.
The real solution turns out to be Infinity's new "Quick-Snap" hose and adapter kit. At 16 ft. long, the crush-proof hose is an upgrade over most vacuum hoses, with a universal 2-1⁄4-in. end that fits into almost all vacuums on the market (measure the inside diameter of your inlet to be sure).
But the real story is at the other end of the hose, where a quick-click connector snaps into four grippy, flexible rubber adapters. Available in diameters of 3⁄4 in., 1 in., 1-1⁄4 in., and 1-1⁄2 in., the adapters have ribbed, tapered interiors that are very hard to shake free in use. And two have tapered exteriors as well, filling in gaps between the 1⁄4-in. increments.
The kit also includes a solution for the larger ports on portable machines: an extra quick-click 1-1⁄2-in. adapter, with a standard plastic adapter that steps it up to 2-1⁄4 in., perfect for my benchtop sander and job-site tablesaw.
For the first time in my woodworking career, my two shop vacs connect quickly and securely to every power tool and small machine in my shop.
By the way, if your vacuum hose has one of those two-button connectors on the end—my Bosch and Fein models both do—the Infinity adapters will pop right on, letting you buy the adapter kit without the hose for just $36. 
—A.C.
Photo: Barry NM Dima