Build a hanging dust scoop for the lathe
Capture shavings and dust as you turn.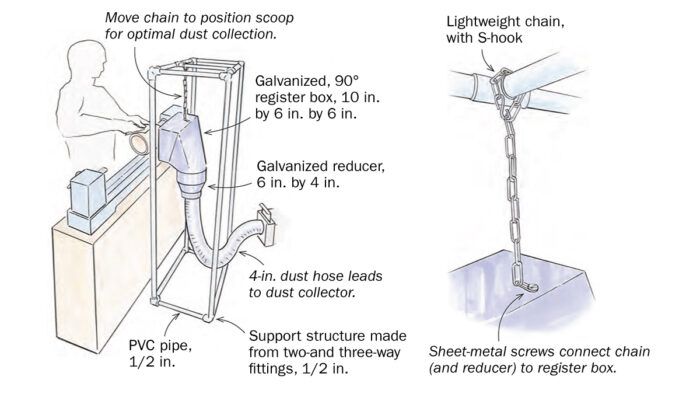 I fell in love with woodturning in junior high school, and I've been pursuing the craft ever since. Until recently, it's been difficult to capture shavings and sanding dust as I turn. So I built a simple framework from 1/2-in. PVC pipe and associated corner fittings, which allowed me to hang a standard galvanized register box from a section of lightweight chain. The PVC pipe and fittings are tight enough to stay together without solvent cement (a rubber mallet helps with assembly). An S-hook on the chain lets me reposition my improvised dust scoop as needed, though I don't often need to change its position. I've also used this posable dust port on other machines that make dust collection difficult.
—DAN RICH, Kennett Square, Pa.
Illustrations by Dan Thornton
From Fine Woodworking issue #305