Testing a tambour design
SketchUp is an efficient way to work out the design of the grooves and tambour slats in a 19th-century writing desk.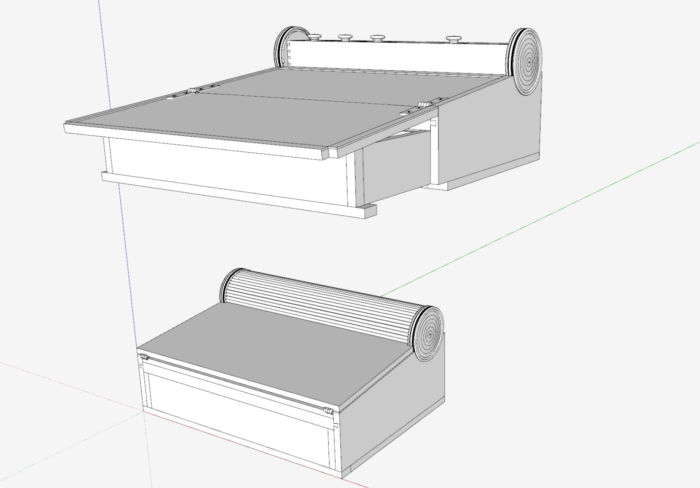 I'm reproducing a portable writing desk of 1810 originally built by the Seymours in Boston. There are several versions of these desks, and the one I'm working on is shown at Winterthur Museum. Here are two views of my SketchUp design, one of the desk in the closed position and another in the open position.
The tambour in the lower assembly is made up of 56 3/16-in. by 3/16-in. slats glued to a canvas backing. When the desk is closed, the tambour covers the container in the rear of the assembly. Since the tambour is connected to the back of the drawer, its position is based on drawer location. When the drawer is withdrawn, the tambour exposes the rear container where pencils, pens, ink, etc. are located.
I used SketchUp to work out the design of the grooves and tambour slats. After "hiding" some of the side components, you can see below the inside of the desk and the position of the tambour in the closed position. I wanted to make sure that the tambour slats would run efficiently throughout the grooved path in the desk sides and turrets.
I attached a video of my process of placing tambour slats within the grooves and thus verifying a smooth working movement of the tambour.
Here is a view showing my copying of a slat. In the current position, this new slat collides with the side of the groove. It must be rotated to clear the interference.
After adding and rotating a couple of slats, I am able to copy multiple slats by rotating the group from the centerpoint of the groove. This view shows copying four at a time. The next copy can be eight in one go. So the copying works quite rapidly.
Here is the video…..
If you're interested in learning more about SketchUp, sign up for Dave Richards's new online Foundations of Woodworking course here.