Creating a cutaway view in SketchUp
Tim Killen uses scenes to create different views of his SketchUp projects and recently added a cutaway view to the mix.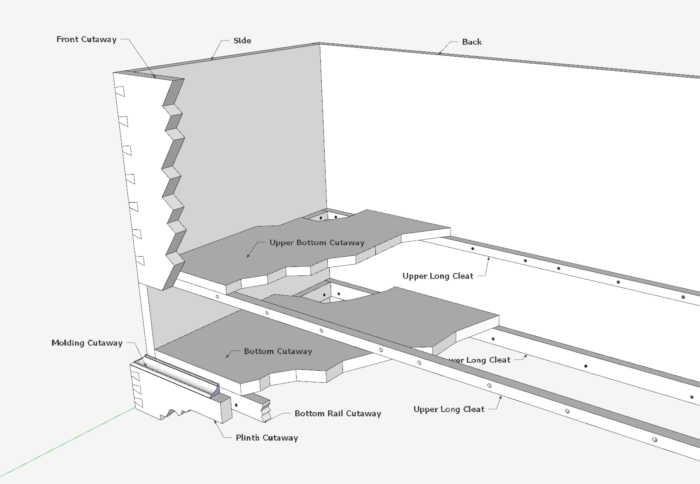 I was recently trying to show the detail construction of the carcase for a Pennsylvania Dowers Chest. It seemed easy enough, and I wasn't expecting any issues doing that. But the connection of the parts is surprisingly complex. My normal use of Scenes for the Assembly, Orthographic with Back Edges, and Exploded weren't doing enough to clarify the relative position of parts.
Below I've shown an overall model of the Chest and my finished version with painted decoration. It is a famous one in the Metropolitan Museum of Art and is described and drawn in the book "Construction of American Furniture Treasures" by Lester Margon.
I opened Margon's book and realized how he used a single manual isometric sketch to solve the problem. It is a "cutaway" view, a traditional type of drawing, but not one that I've used. So I decided to make an equivalent in SketchUp.
Here is my SketchUp version of the Cutaway.
This view or Scene was created quickly using the existing components already in the model. To create the cutaway versions of the components, I simply "exploded" the components, and made added versions named cutaways. Then I could edit those cutaway components to remove much of the surfaces exposing the underlying connections. My normal Scenes for Assembly, Exploded, and Orthographic are still there with full component representation, but now complemented with this Cutaway Scene.
I am now convinced that Cutaway Views will be included in my future designs. Thank you, Lester Margon.
Tim
KillenWOOD
---