My favorite DIY joinery
Slip mortise-and-tenons are a step up, but definitely within reach for the beginning woodworker.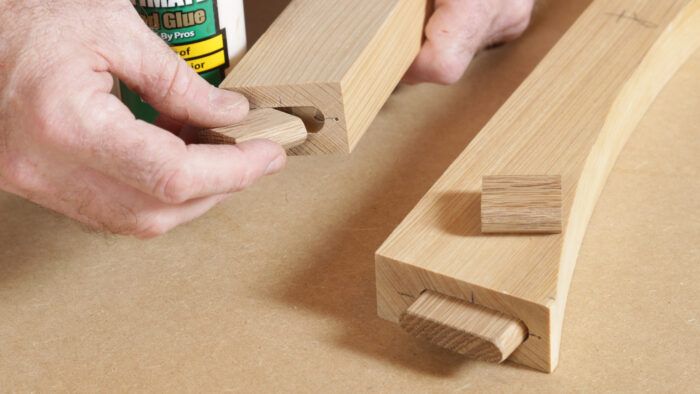 Pocket screws, dowels, or just screwing through face grain and into end grain for a butt joint: They're all examples of DIY joinery. They all have their place, too, whether you're looking for entry level or efficiency. So, I'm not going to poo-poo the other options as "not woodworking" and decry people forgoing secret mitered dovetails or whatever. Used well, DIY joinery works well. Instead, I want to add an example, slip mortise-and-tenons.
Yeah, mortise-and-tenons don't immediately seem DIY friendly, and typically they're not. Too much prep and setup and fussing are involved. But the slip tenon is different. You create mating mortises—I vote for using a plunge router—and then insert a shared tenon. Glue it and clamp it (or drawbore it), and you're done. You don't even need to factor in the joinery when sizing your parts to length, just like pocket screws, dowels, and butt joints. In contrast, however, the joint's much stronger.
In short, it works like a Festool Domino—a wonderful machine no doubt, but perhaps outside of a DIY budget.
A plunge router's still an investment, but it's also so dang versatile that I consider it part of an early tool kit, even if it's not in your kit right away. I recommend spending a little more to get a full kit, which includes both a fixed base and a plunge base. So although you may not have a plunge router when you start woodworking—meaning it's a little farther from DIY than other tools—it'll start tempting you soon after the shop bug bites you. Fall to the temptation.
I use two methods to make the mortises. First, and maybe fastest. is with an edge guide. I prefer a second option though: this jig from Greg Paolini, which pairs a fence with a slot that fits a guide bushing. It adds another tool or two (bushings and a base to fit them) plus another router bit for making the slot, but I love the positivity of the bushing in the jig's slot. It eliminates the need to mind your layout lines while actually routing, taking one task off your plate while cutting joinery.
You can also use it without a fence, like Tom McLaughlin does on his modern Adirondack chair. I used this fenceless jig when working on a farmhouse table with mating mortises centered on parts of different thickness.
You have options for the tenons too. You can make your own with a planer or by resawing stock. You can also buy them provided your bit matches. When I'm feeling lazy, I toy with buying a Domino bit so I can just buy Dominoes. Tamar Hannah at 3×3 Custom does this. She also uses a slick mortising jig, showing you can further level up this method. Ditto Michael Fortune.
So, you have plenty of options for incorporating this joint, further lowering the barrier to entry. Talk about DIY friendly.
If you're interested in more beginner's content, check out the Beginner's Project Guide here.