Awesome joinery for DIY projects
Call it beginner joinery, non-traditional joinery, or joinery for DIY projects; it doesn't matter. Truth is, these joinery options work.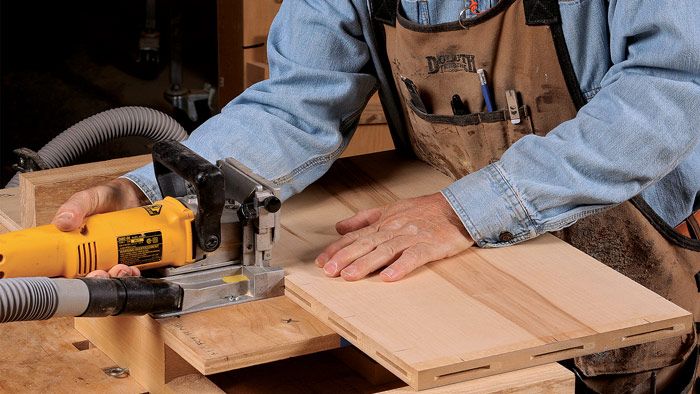 There's a real sense of pride when you pull off a tight and square mortise-and-tenon or gap-free dovetails. These are the markers of fine craft—or so we're told. But successfully cutting one mortise-and-tenon is different from cutting four for a door. Ditto dovetailing an entire case instead of just one corner. The more joints there are, the more demanding the task is. Leveling up your joinery chops can be frustrating and takes time; and often, it's not even necessary. There are many ways to construct a table or case, and plenty of options lower the bar by making the tooling, techniques, or both more accessible.
Plus, these more accessible options still leave plenty to be proud of. A good job is a good job, after all. So in the spirit of doing the best you can, below are some of Fine Woodworking's best resources for joinery that gets the job done. Call it beginner joinery, non-traditional joinery, or joinery for DIY projects; it doesn't matter. Truth is, these options work, and done right, they could be your best option.
---
Screws

There are dozens of ways to join two pieces of wood and each has its advantages and disadvantages. But nothing supplants the humble screw. Screws eliminate the need for time-consuming joinery, create a solid mechanical connection, and make it easy to quickly assemble and disassemble your projects.
By Mario Rodriguez
---
Inexpensive and easy, pocket-hole joinery enables beginning woodworkers and veterans alike to create strong, versatile joints wherever there's room for a clamp. Though they are not appropriate for everything you'll make, woodworker Mark Edmundson finds pocket-hole joints useful for plenty of applications. Here, he gives tips on getting a good jig, using a platform to support long workpieces, and the best places to use pocket holes: partitions, face frames, and drawers, to name just a few.
By Mark Edmunson
---
Dowels
The lowly dowel joint may be the most undervalued, underused joint in woodworking. It owes that reputation to decades of bad, factory-made furniture. But done right, the dowel joint is a simple, strong way to  make fine furniture, and often is the best solution when other joints don't work. Use it to align panels, substitute for a mortise-and-tenon, and as a solution in tight spaces where traditional joinery would be cumbersome.
By Asa Christiana
---
Making your own dowels offers more versatility and it's easy if you follow a few tips. Start with straight-grain stock, ease the corners using a V-groove jig, sharpen the ends to a blunt cone, and use a dowel plate to form them.
By Michael Pekovich
---
Biscuits
Ever since biscuit joiners first came on the scene in the 1980s, these simple handheld power tools have become a staple in just about every serious DIY or pro cabinet shop in the nation, and there's a good reason for that. A biscuit joint is a fast, strong, mechanical joint. Add to that the low cost of the machine and you've got a real winner. Trouble is, most folks aren't harnessing the tool's full potential.
By Asa Christiana
---
Are you biased against biscuits? It might be time to take another look. Michael Fortune has, and he's learned that they are great for joining the rails and stiles of a face frame, attaching a solid-wood frame around a veneered panel, tabletop, or door, joining a leg to a veneered panel, and other uses. Biscuits also let him build adventurous furniture that would be difficult with traditional joinery. Wait, you argue: Biscuit joiners are inaccurate, they jerk sideways when you start a cut, and they jump around when you're trying to use them. You need to try Fortune's solution, and attach your joiner to a shopmade table. It might just change your attitude about biscuit joints.
By Michael Fortune