Workshop tip: Insulated steambox works better
Foil-lined bubble wrap and weatherstripping make this box efficient.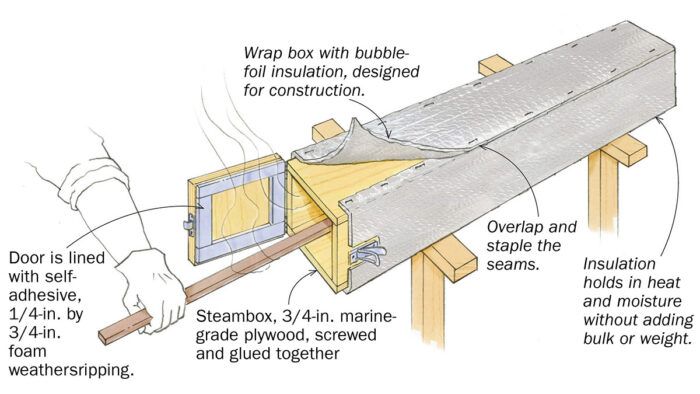 If you are interested in steam-bending wood, you'll find lots of designs for steamboxes. Mine is pretty standard, but I add modern insulation around the outside to help hold in the heat and moisture. This also makes it easy to steam multiple pieces at once.
For the box itself, I use 3/4-in. marine-grade plywood, built to withstand water exposure. For the end panel and door, I add a 3/4-in. by 1/4-in. self-adhesive foam weatherstripping.
After the box is built, I wrap it with an insulating bubble wrap that has foil on both sides and is normally used in construction. It's about 1/4 in. thick and comes in affordable 2-ft.-wide rolls. It cuts easily with scissors, wraps easily around the box without tearing, and is designed to hold staples. That's how I attach it, simply overlapping the seams.
Designed as a moisture barrier, it is impermeable to water, and it adds a significant thermal break. I leave the door open after use, to allow the box to dry out and avoid mildew.
—MICHAEL RICCO, Kalamazoo, Mich.
Illustrations by Dan Thornton
From Fine Woodworking issue #295