Kerf-bent wall cabinet
Philip Morley's small wall cabinet has sides that curve inward at the top, with an asymmetrical arrangement of drawers, door, and open shelves.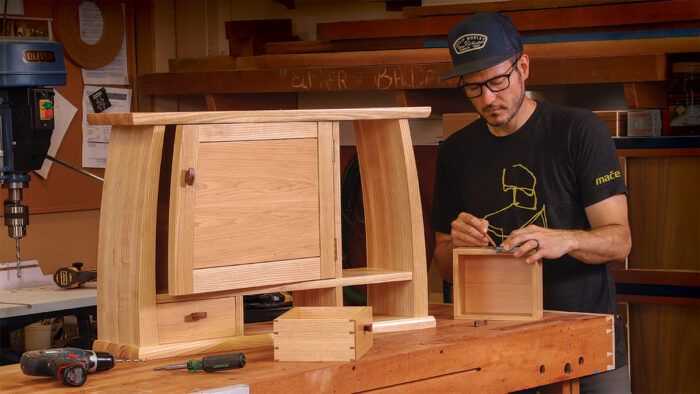 Synopsis: This small wall cabinet has sides that curve inward at the top, with an asymmetrical arrangement of drawers, door, and open shelves. The curved tapered sides are fashioned using kerf-bending, a technique in which Morley cuts slots into a poplar core, bends them, and then veneers them with ash. The kerfed core is very flexible and makes bending easy. Other parts are shaped with the use of templates.
---
A few years ago, I built a long cabinet with tapered sides that curved outward at the top. I made extra parts, planning to build a second identical cabinet. But when I happened to see the extra sides flipped around on my bench, I envisioned instead a smaller wall cabinet with sides that curved inward at the top. I did a rough sketch, working out the asymmetrical arrangement with one section left open, and went right to building it. Since then I've returned to build it a number of times, altering the design slightly with each version.
I usually design things and then figure out how to build them. That's what happened with the curved tapered sides. Kerf-bending them came right to mind because as an apprentice I had built stairs with curved risers, and we kerf-bent those. Then I remembered an article by David Haig ("Curved Panels for Furniture," FWW #231) that discussed the technique. I followed his method closely and found it very effective; the main change I made was in blocking up the tapered core to make kerfing simpler.
I think of this cabinet as having a slightly Japanese teahouse feeling: as something to make you feel good when you walk into the room. It's a place you might want to display or store favorite pieces of craft or other keepsakes. With that in mind, I leave the drawers without stays, so you can pull them right out of the case to examine what's inside (and perhaps even get a closer look at their dovetails).
Kerfing the cores
The heart of this cabinet's design is its curved and tapered sides. I make them by kerf-bending a core of solid poplar and then veneering over it with shopsawn ash. Because I use some of the same veneer for edging, the finished sides really have the look of solid ash. And because the core is solid wood, I can make the other case parts from solid wood and they'll all move together.
Before I begin kerfing, I make an overwide poplar blank and taper it on a jig in the planer. Then I rip two strips off the blank, turn them end for end, and adhere them to the blank. Doing this takes a lot of fussiness out of the kerfing process. Typically, when kerf-bending a tapered part, you need to readjust the blade height after every kerf you cut. But with the two tapered strips beneath the workpiece, I can cut all the kerfs with the blade at the same height, then just remove the strips.
Bend and veneer the sides
Once the core is kerfed, it's super flexible, so bending is a breeze. I made the bending form from 3/4-in. plywood. It has six ribs that are curved along one edge; I used small plywood blocks at each end to space the ribs apart. To make the ribs identical I first made a master rib by sawing and sanding to a line, then used that to template-rout the other ribs. After gluing and stapling the ribs and spacer blocks together, I covered the curved face of the form with a piece of 1/4-in. Masonite.
From Fine Woodworking #292
To view the entire article, please click the View PDF button below.
---
| | |
| --- | --- |
| | Kerf bending can be a powerful tool when creating curved pieces. This online calculator will help you figure out the kerf spacing. |
| | Solid, kerf-bent core can be tapered, too |
| | Learn when it's best to saw, steam-bend, or laminate parts for chairs and other projects. |
View PDF