How to bend wood to your will
Use steam to create strong, curved parts with continuous grain.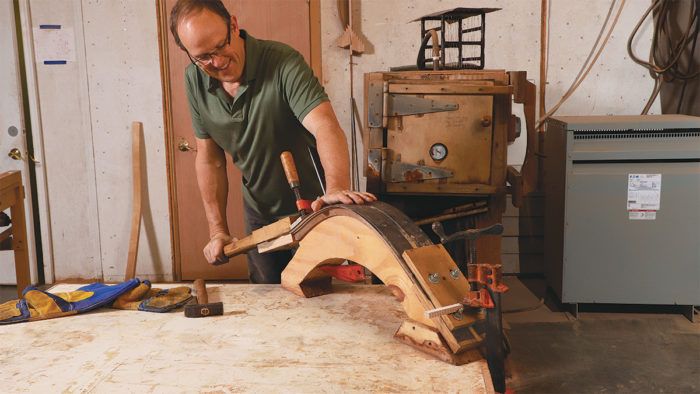 Synopsis: Brian Boggs has been steam-bending wood for almost 40 years, and he knows that the process, although mysterious and fascinating, can be much more predictable if you follow some guidelines. Here he maps out what you need to know about wood selection and preparation, whether to choose kiln-dried or air-dried wood, how to make a steambox, how to use bending forms and drying racks, and the different types of forms you can use. When it comes to steaming and drying the workpieces, there are rules you can follow there as well.
---
I've been steam-bending wood for nearly 40 years and still I don't know of any process in our shop that is more mysterious or more fascinating. Or more powerful—with steam you can create curved parts with perfectly continuous grain that couldn't be improved on for strength, resilience, or appearance.
In hopes of making steam-bending a little less mysterious, I'll explain something about selecting and preparing wood for bending, building a steambox, building bending forms, and putting them all to use. Along the way I'll demonstrate three different ways to bend: formless bending, which is done freehand and requires no bending form; free bending, which uses a bending form and a drying rack; and compression bending, which uses a metal compression strap as well as a bending form and a drying rack.
Wood selection and preparation
Selecting the right wood makes all the difference in steam-bending. No matter how skilled you are at bending, trying to bend the wrong wood makes for frustrating work. Finding the right wood is not just a matter of picking the right species. While some species are, on average, more flexible than others, most hardwoods vary as much within their species as they differ from other species. While I don't know of any rule or set of rules that guarantees a particular board or log will yield good bending wood, there are a few guidelines that will put the odds more in your favor.
Heavy wood—Look for wood that is heavy for its species. It's generally stronger and more flexible.
Less porous—With maple and cherry it's hard to tell much about porosity, but woods like oak, hickory, walnut, and ash are easy to survey for this. Compare the ratio of pores in several boards and you will likely find a significant disparity. Pick the denser wood.
Straight grain—This won't impact flexibility, but if the wood fibers follow the sides of the board, the parts will be less likely to break.
If you find the right specimen, most American hardwoods can bend quite well, especially in compression bending. Cherry, for example, is generally a poor choice for bending without a strap, but with a compression strap it bends about as well as any wood.
From Fine Woodworking #287
To view the entire article, please click the View PDF button below.
---
View PDF