The heart of a woodworker
12-year-old Frankie DeMunda is making a difference while making things from wood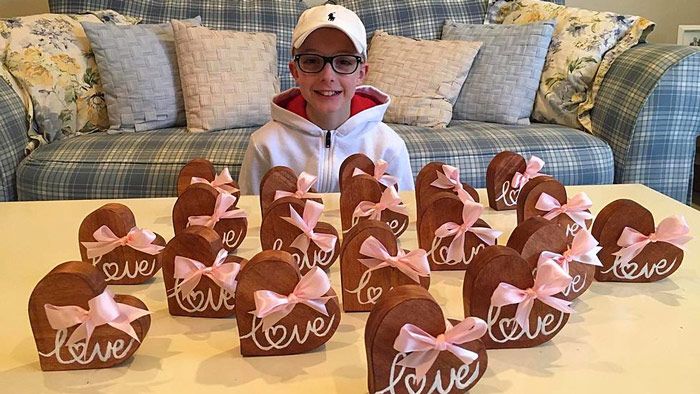 Forget all the things you think you know about how woodworking is a craft practiced almost entirely by older men. Forget your notions about the young people of today, whatever they are. Twelve-year-old Frankie DeMunda is about to blow all of that out of the water.
Frankie caught our attention the other day because of a Facebook post by the Danbury, Conn., police department. That's just down the road from Fine Woodworking's Newtown offices and the town where Frankie lives. On their Facebook page, the Danbury police praised a local young man who had donated lunch to the entire department:
"While we have been overwhelmed with all of the kindness and support from the Danbury community, Danbury PD wants to single out this amazing community hero who has blown our minds! Frankie, a 12 year old student in the Danbury School System, donated lunch to the #DPD made by the West Side Deli. What makes this so special is that Frankie paid for these meals entirely with his own money, which he has earned from selling his own woodworking projects!"
That's right: selling his woodworking projects. Frankie has been a woodworker since the age of 7. And he's been quietly using the money he makes from selling his work to help his community in a big way.
It all started when he was 4 or 5 years old, says his mother, Carrie DeMunda. Frankie's grandfather, David Bigham, has a woodworking shop. "Frankie wanted to try things out, and my dad would sit with him, show him things, and work with him. And as time went on, making things became second nature to him."
As Frankie got older, his grandfather started showing him how to use small machines, and he started to create things on his own. His first project was a wooden bird house. "We still have it," Frankie said. "The birds love it."
As Carrie and Frank watched their son grow, his love of woodworking also grew. They almost couldn't believe how dedicated and talented he was. "He measured the projects himself, figured it out himself, sanded them himself, did these things all by himself." (For the record, he never uses woodworking machinery without an adult in the room.)
Around last Christmas, Frankie's woodworking turned into a way to help others. A family friend was a patient at Hartford Children's Hospital during the holidays, and Frankie decided to make wooden Christmas trees for the kids in the hospital who couldn't have real trees. He made about 20 and they distributed them to kids and staff. Orders started coming in. Eventually, he made 75 of them.
On Easter, he made and sold wooden Easter bunnies, using the proceeds to quietly help out a classmate who didn't have enough food and clothing. As the COVID-19 pandemic took hold, he started making wooden hearts and distributing them to workers at area hospitals. He bought lunch for health care workers, first responders, and others in his city.
When Frankie's Woodworking started its own Facebook page, things really started to take off. He posted a photo of some trays he'd made as shower gifts for family, and before he knew it, he had people lining up to order them. "I have made 25 trays so far," Frankie said. "People are waiting for them."
Frankie's well on his way to becoming a local social media celebrity. "We had no idea this was going to go the way it did," Carrie said. "He was doing everything quietly, helping people who were in need. He gives what he can. He wasn't looking for recognition."
Carrie and Frank know that their son was a lucky young woodworker in that he had a mentor — his grandfather, who passed down to him some used machinery and helped him learn to use it. And after he made a little money, he was able to replace some of that machinery. He works on his great-grandfather's bench, in his shop, where you can find him each afternoon after he finishes his schoolwork.
A relative gave him a subscription to Fine Woodworking, so he could dream about new projects. He says he likes reading about other woodworkers and seeing what they are making. But when asked if he has a favorite woodworker, he's diplomatic. "I like them all."
As he works, he thinks about the next thing he'll do to help his community. "I may do the fire department next," he said. "I'm going to make wooden flags."
Check out Frankie's Facebook page to see what he's up to.