Water in the woodshop
If you're like Ben Strano, and your shop is 50 or 60 feet away from running water, you've had to figure out some workarounds.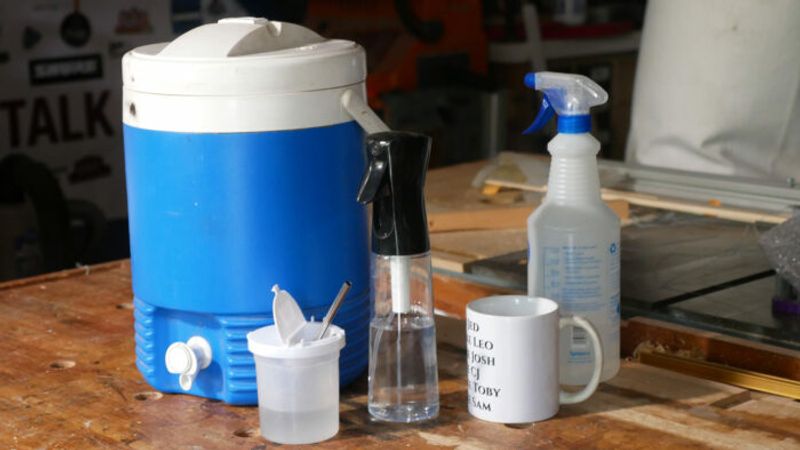 If you're one of the lucky few who have running water in your woodshop, just hit stop and move on. But if you're like me and your shop is 50 or 60 feet away from running water, you've had to figure out some workarounds. I keep a couple of gallons of water in a jug in my shop, which I wind up having to refill about once a week. But there's a couple little things that I've gotten over the past few months that have really helped my flow in the shop.
Glue-brush cup
One of them is this paintbrush cleanup container–which it turns out is called a "neatness jar." It's just a lidded cup that I fill with an inch or so of water. The lid keeps the water from evaporating. Under the lid is a cone inside with a hole in it which is a great place to tamp your brush clean. Most of the time, when I finish spreading glue with my glue brush, I just throw the brush right in the cup and the water keeps the glue from drying; then after I'm done with the stress of dealing with clamps and getting parts to fit together, I go back and clean up my brush.
Spray bottles
I do a lot of hot-pipe bending and I often use a spray bottle to moisten the wood before bending. A spray bottle of water also comes in handy to spray a piece down in order to raise the grain before final sanding. Recently I was helping my brother sand a butcher-block countertop and I asked him for a spray bottle. My sister-in-law came with what can only be described as a magic bottle–a continuous-flow spray bottle. She ordered it online, but I'm sure they're available at beauty supply stores. The continuous-flow bottle puts out a really fine mist, so one spray from it is probably equal to one spray from a regular sprayer. If I were a waterstone sharpener, I would absolutely have one a continuous-flow bottle–besides, it's just kind of fun.
So how do you use water in your woodshop if you don't have running water? Let me know in the comments below. I'm interested.
---