Skills class or project class?
Even though learning new skills is the meat of a beginner class, Megan Fitzpatrick finds it's the project that makes it appetizing.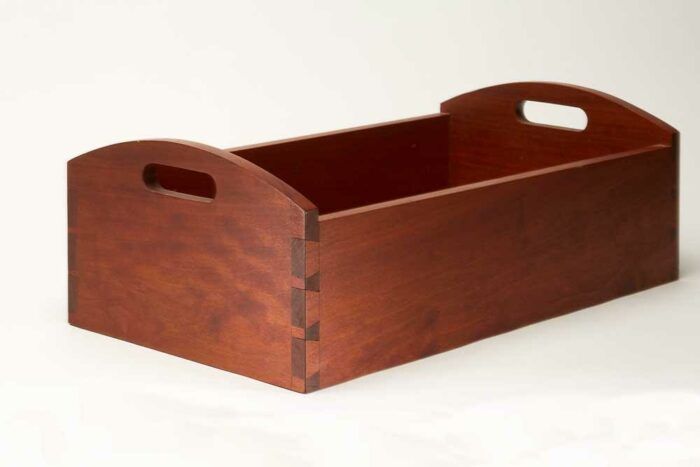 A recent woodworking forum thread involved a debate as to whether a "skills" class or a "project" class is the better way to get started in hand-tool woodworking. It is my contention that most hand-tool classes – whether you're building a project or not – are skills classes that by (almost) any other name would smell more sweet. (And may I just say how happy I am that there are once again in-person classes about which to debate!)
No matter how "kitted out" a project, the student still has to put it together, and that is going to involve some form of joinery, even if it's a simple nailed construction. Because yes, how you hold the hammer matters (more power if you grip near the end; grip with your fist, thumb extended in the direction you're striking) , and it takes practice to not "French" the board (I assume the French say "sacré bleu – je suis Englished la planche"). And if you're using cut nails, there's also proper drilling to learn ("dovetailing" the nails – slightly angling them – increases the joint strength – also true for round-shanked nails…but I wouldn't use those for furniture).
And even for a nailed-together hand-tool project, odds are good that you'll also learn how to at least smooth-plane it. And that's a skill that doesn't come easily, especially when you include how to sharpen and set up this most finicky of planes, and it's a skill that can be used on just about every future project.
---
The North Bennet Street School Toolbox with Matt Wajda
For the instructors at the school, this toolbox is an important teaching
tool that covers an array of hand-tool and machine techniques.
---
Take the English tool chest, for example. Every woodworker needs tool storage, and a large chest (that could also be used as a blanket chest or toy chest) looks fairly impressive. So I think the project is what sells it. If I called it "Four Days of Dovetails & One Day of Other Stuff," well, I'm not sure the response would be as good. But it really is four days of dovetails with a bit of planing for the carcase parts, and some drilling and nailing for the bottom boards. Then one day of constructing the lid. It sounds pretty boring when put like that. At the end, you take home a nice (one hopes!) chest, and you'll probably be pretty good at dovetails, or at least a lot better than you were five days past.
Almost every beginner class I've taught is billed as a  "project" class,  because I think that for those just getting started, producing a project is usually key to getting hooked on woodworking. If you don't already know that you like the craft, cutting dovetails for two (or four) days with nothing to show for it might not intrigue you enough to try again. And it is even less likely to convince anyone with whom you share a savings account and/or bed that it's worth the time, effort, and cost. Bring home a nice piece that you've made with your own two hands, though, and every time you see it, you'll feel proud of what you've accomplished, be motivated to do even better next time, or both. (And you can then say to your SO, "heck – I can build that for less!" which is an excellent excuse to "need" to buy a new tool or two. Just be sure to follow through.)
My task as an instructor is to come up with a project that people not only want to build, but that teaches a lot of skills. Then it's to make sure people have fun – safely – while learning, so they want to do it again. And to do my best to make sure every student leaves with a project that is, if not completely finished, finished enough that it can be easily completed at home with the tools and skills – some of them newly learned – in that person's kit. I'm sure I'm not alone in that.
So if you are that rare beginner who wants to learn hand-tool skills independent of a project, I suggest you look beyond the class title; odds are decent that the class description will at least mention, if not list, the skills you'll learn. And even if you don't need a tool chest/Shaker table/step stool/etc., I'll bet you know someone who will be delighted to receive your project as a gift. The challenge then becomes, 15 years on, to get it back and give them something better… then burn your early work. (This might be a personal problem.)
---