My experience with Cutlist Optimizer
Sometimes, you need a computer to calculate the most efficient way to cut parts while using as little stock as possible. This program does it in style.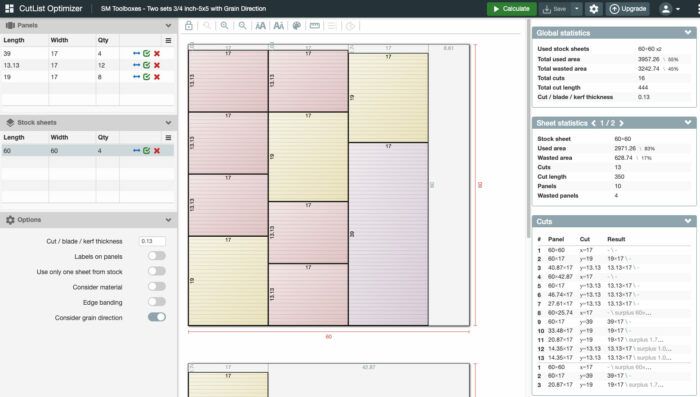 First things first; I hate cutlists. Well, I don't hate them, I hate that woodworkers use them as a crutch and wind up cutting boards based on the cutlist and not the wood before them. When building with solid wood, I think woodworkers should take Hank Gilpin's advice and start thinking in terms of a parts list, and not a cutlist. But sometimes, especially when dealing with a plywood project, I need a cutlist. More specifically, I need a computer to calculate the most efficient way of cutting my parts while using as little stock as possible.
In the past I relied on a SketchUp extension "Cutlist" to handle all of my cutlist needs. It works, but I've never really been satisfied with it. The extension is free, but it always feels like you're tricking it into working. Recently, there was a forum post discussing various cutlist programs and for the first time I realized that there are actual options available.
I'm starting on a large (for me) project that requires building six cases and 30 drawers. The client specifically asked for Baltic-birch plywood and right now it's hard to come by. So I don't want to waste any of this already expensive material. More importantly, I want to be both efficient with my material use and my machine setups. A cutlist will make the material use efficient and will act as a parts list, making my machine setups efficient.
Like most of my case pieces, this design started in SketchUp, and using Dave Richard's practices I was able to generate a cutlist with the free extension. One major downside of the extension is that it doesn't allow for control of grain direction. This led me to try Cutlist Optimizer out of curiosity, and I'm well pleased I did. However, I was glad the Cutlist extension was around to output a simple (albeit cluttered) parts list from my SketchUp model making it easier to input what I needed into Cutlist Optimizer.
Exporting a cutlist using the normal methods.
Once I have the sizes sorted, I head over to CutlistOptimizer.com and input them into the table on the top left and the stock size you have on the bottom.
Once you have everything filled in, click the green calculate button on the top right.
As you can see, the output is a far richer and more detailed than the cutlist extension. You can export all of this information (or just the info you choose) as a PDF and print it for shop use.
Here are a couple of caveats about using Cutlist Optimizer that you should be aware of.
While this is a premium website, they allow five calculations a day before you have to pay, and you are limited to five saved cutlists at a time. The pricing is very reasonable for professionals, but if you're like me and are only likely to use this program once or twice a year, they have a three-day license for less than $5–a very reasonable sum. I was able to do most of my work in the five-calculations-per-day window, but last night I wound up paying for a three-day license. I was happy to support them and be able to click that calculate button a few more times.
I don't think the actual cutlists between the free SketchUp extension and Cutlist Optimizer were that different. They both provide the information I needed. I just prefer the experience and control available on Custlist Optimizer. Both programs will do the job; Cutlist Optimizer does it in style.
| | |
| --- | --- |
| Cutlist extension | CutlistOptimizer.com |
| | |
Sometimes the little things add up. Having the dimensions on the graphic makes all of the difference. It isn't represented above, but at one point that added information helped me realize that if I trivially changed one dimension I could fit all of the case pieces on a sheet of 4-ft. x 8-ft. plywood. While I'm using 5-ft. x 5-ft. Baltic birch, I still changed the dimension because it just felt like the right thing to do. Cutlist Optimizer isn't perfect. For instance on the picture above, I wish the program was smart enough to line up the yellow pieces. That would make for more efficiency at the tablesaw. I'm able to identify and course correct the issue, but some woodworkers could wind up moving their fence more than they should. But this is asking a lot out of any program and at some point, it's on us to figure out the issues.
*update-
With 60 pieces coming from one sheet of plywood, I wish Cutlist Optimizer had a third priority you could select in the premium settings–minimum number of fence settings. Both options leave you with too many nested pieces.
---