Tool review: Laguna's Fusion F1 table saw
Roland Johnson takes a closer look at the capable, lightweight tablesaw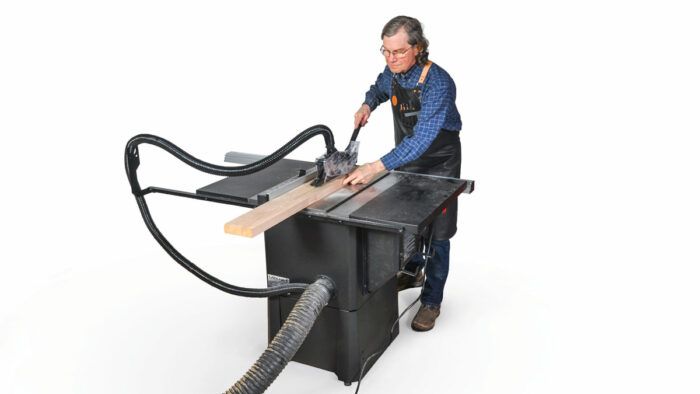 Laguna's new Fusion F1 tablesaw is an upgrade of the original Fusion that I reviewed several years ago, and the improvements make it a winner again.
The saw table is cast iron, and the wings are stamped steel. The cabinet is now made in two sections—an upper saw cabinet and a lower leg assembly. There's a sheet-metal floor in the upper cabinet to help contain sawdust. The main dust-collection port is at the back of the cabinet and has a smaller connection on one side for the blade-guard collection hose. The blade guard consists of two linked clear plastic guards with a central mount that contains the dust-collection port for catching all the annoying sawdust blades love to fling. Dust collection is very effective with the blade guard in place, but it's still good without it.
The rip fence has a nice, versatile feature. You can easily slide off its aluminum face and replace it with a sacrificial face or custom jigs. The fence slides easily and locks securely with little fussing. Plus, its magnifying cursor actually works, providing great accuracy.
I ran a bunch of hard maple, 4/4 and 6/4, past the 60-tooth blade that comes with the saw, and found no lack of power. That's impressive considering that a 60-tooth blade is not an ideal blade for ripping heavy hardwood. The motor is 1-1⁄2 hp (13 amp max draw), 110 volt. The arbor lock simplifies blade changes and is one of the better ones I've seen.
I checked the setup of the saw and found the blade parallel to the miter slots, which is amazing considering the miles the saw traveled to get to my shop.
The saw weighs just under 200 lb., which is fairly light, making it convenient for a small shop, especially with the optional mobility kit ($75).
| | |
| --- | --- |
| Smooth settings. Blade elevation and angle adjustments are smooth and easy, with little effort required to tilt the blade to its 45° max. | Adaptable rip fence. The rip fence is a single aluminum face on a stout steel frame. The aluminum face can be removed easily for attaching a sacrificial face or custom jigs, a nice touch. |
—Roland Johnson is a contributing editor.
Photos: Roland Johnson
From Fine Woodworking #290
---