So you just bought a table saw
A collection of articles and videos that will teach you the important things to know before operating a tablesaw.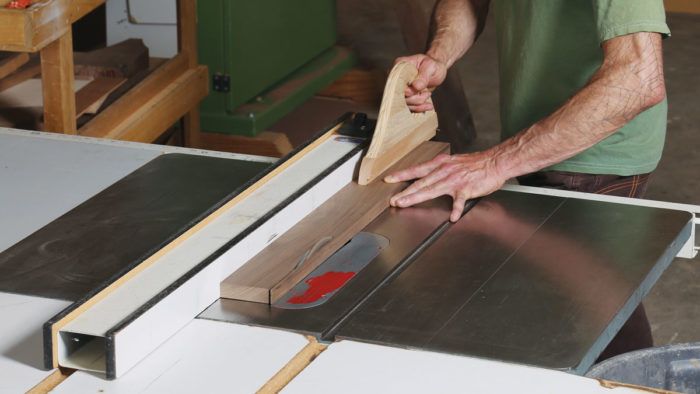 The tablesaw is the heart of many woodshops, and for good reason! Few tools can claim to be as versatile and accurate as a properly set up tablesaw. That said, when used improperly, few machines in a woodshop are as dangerous. The tablesaw is a machine that should be approached with a sober mind and treated with respect. Whenever a friend tells me that they bought a tablesaw, I immediately feel the need to give them a lesson on safety. While I'm happy to do that for friends and family, there is only so much time I have, so honestly, the next best thing I can do is to point you to a video workshop we produced, "Tablesaw Techniques" featuring Marc Adams. In it, Marc demonstrates proper tablesaw use and more importantly, how to keep safe when standing behind one.
If you're more the reading type, here are two fantastic articles that Marc wrote on tablesaw safety and joinery.
There is always a debate on which tool is the best for ripping lumber. While I agree, it's safer to rip on a bandsaw, sometimes it's just not possible, and it's certainly not as accurate. In those instances, I will rip on the tablesaw, stacking the odds in my favor by making sure my saw is fitted with a riving knife and outfeed table like Bob Van Dyke demonstrates in this article.
| | |
| --- | --- |
| | |
Before you can truly understand how to stay safe at a tablesaw, you need to understand the physics at play when you're operating one. Everybody knows that you don't want to touch the spinning blade, but the reality is that many accidents happen because a workpiece hits the back of the spinning blade, causing kickback. A kickback can create a projectile out of your workpiece or worse yet, pull you into the blade. The best way to avoid this is to truly understand what is happening in a kickback. Don't feel bad if it isn't easy to wrap your head around at first. I thought I understood kickback before I REALLY understood kickback. The following articles each drive the point across, but in different ways.
Once you're comfortable with your tablesaw, you're going to want to accessorize it even more to get the most out of it. Associate editor Barry Dima put together a collection of fan-favorite articles about jigs and fixtures that you can make to add even more versatility to your tablesaw.
---
Recently, on our podcast, Shop Talk Live, we had the following question from a listener. I thought it would be good to put that part of the episode below, but I'll make a long story short for those of you lacking patience.
From Matt:
I've managed to get by without a tablesaw for a number of years, but now, I am considering one. I was wondering what additional equipment I need to budget for that you would consider essential, such as outfeed table, miter gauge, crosscut sled, dado stack, blades, zero-clearance inserts, push pads, featherboards, etc. It seems there are endless accessories that one could buy. Which are your favorites?