Handplane a twist out of a board
To flatten a twisted board, Bob Van Dyke first determines which corners are highest and then systematically planes sections until the board is flat.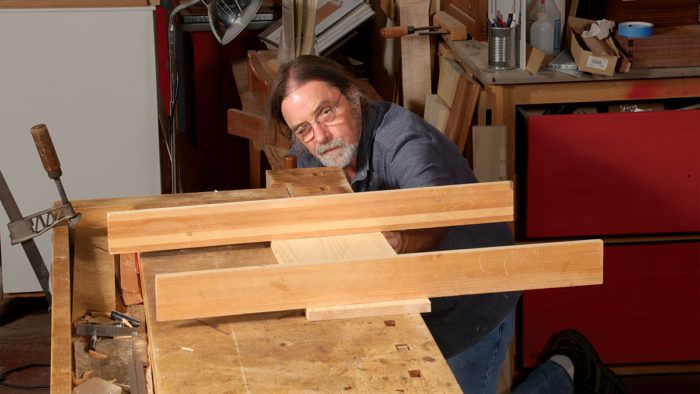 To flatten the face of a twisted board, first determine which are the high corners. Start there and plane progressively larger sections until the face is flat.
Assess the twist with winding sticks. By sighting down the board with winding sticks, Van Dyke checks how much the board is twisted, and how many sections he'll have to divide it into for planing.
Take the time to draw the grid. Because the sections for twist are more complex than those for bow or cup, Van Dyke draws them on the board. Roughly divide the board in half in its width and length and then subdivide each half into equal sections.
Plane from high corners inward. After wedging and clamping the board, take overlapping cross-grain shavings to flatten the opposing high corners. Regularly check your progress with winding sticks. If you need to do subsequent sets of shavings, you will probably divide the board into fewer sections to avoid taking off too much material.
Bob Van Dyke runs the Connecticut Valley School of Woodworking in Manchester, Conn.
This is an excerpt from Bob's article "Handplaning with precision" in Fine Woodworking #287.
---
Replay Join contributing editor Bob Van Dyke for a webinar on handplaning with precision.