Working in the shop with cancer
Diagnosis and treatment don't mean your shop days are over, but you do have to make some changes.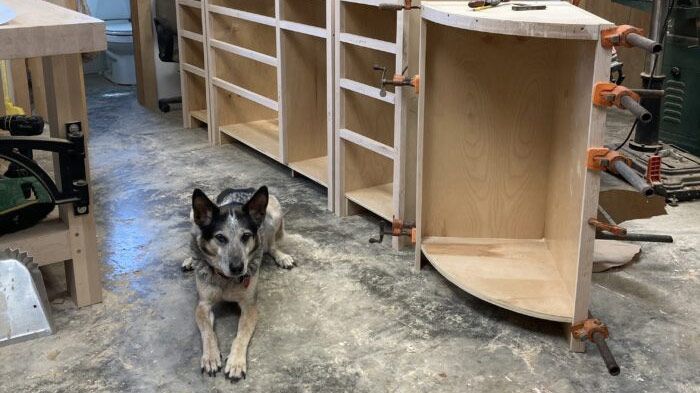 When my doctor called on November 15, 2020, with news that a recent CT scan suggested that I probably had pancreatic cancer, I had no idea how much longer I would be able to work in my shop. My preliminary meeting with a pancreatic oncologist convinced me that I should start chemo treatment as soon as possible, though setting me up with our hospital's infusion center and having additional tests to confirm the diagnosis took a few weeks.
I used those weeks to wrap up a few jobs in my shop and install them in clients' homes. By the time I was done, I found myself wondering whether they might be my last commissions. Everything I'd heard about the side effects of chemo had me imagining the worst, but things have turned out far better than I expected. In case it may be helpful to others facing similar circumstances, here is how I have dealt with my situation to date.
Allow yourself time to learn how treatments are going to affect you
The first round of chemo was brutal, but the seven since then have caused relatively minimal side effects. (I still have four more rounds, over the course of two months.) I decided to postpone my return to the shop until I was good and familiar with the side effects, some of which would make the kind of work I do more dangerous than usual.
In my case, the most notable side effects have been these:
Peripheral neuropathy, a feeling of pins and needles, primarily in response to cold. Four months in, I know that this side effect abates within a few days of the infusion. It's caused by oxaliplatin, one of the drugs in my regimen; in addition to pins and needles, which can be severe, I have the occasional cramp that causes one or both of my thumbs to pull in towards my fingers.
Most of the tools and equipment in my shop are made of steel, which is cool to the touch even in summer. I thought that my impaired ability to feel things, especially where fine adjustments are necessary, made working in the shop too dangerous—not only for my personal safety, but for the sake of whatever I was working on.
Potentially dangerous gear associated with chemo. For the first 46 hours after my infusions, I have a portable pump attached by a catheter to a needle that sticks out horizontally from my chest. The line is subject to getting grabbed or tangled up in any large materials I'm handling, and the 5-FU (Fluorouracil) is not something I want to leak on my skin, my clothes, or even my shop floor, as it's highly toxic.
"Chemo brain." Now I know what others were referring to as chemo brain or chemo fog. I have been lucky to experience this only twice; I felt spacey – in itself, not an unpleasant sensation, but I know better than to work with machines (or drive) when in that state. I don't even want to work on drawings when in that state; I'm afraid I might miss a critical detail or measurement, something that's easy to do even when firing on all cylinders. So on those days I indulged myself in writing my current book, Shop Tails, for Lost Art Press.
Muscle fatigue. My hemoglobin level is low due to chemo, which makes it harder to get oxygen to my muscles when I'm working at my previously normal pace. So I take more care to pace myself, as well as when lifting and carrying unwieldy or heavy objects.
Risk of infection. Chemotherapy can cause dangerous drops in white blood cell and other blood counts, compromising your immune response. In my case, it has also drastically reduced my platelet level, which makes it harder for blood to clot if I get cut. In view of this risk, I have taken to wearing work gloves when handling sheets of plywood or large boards of solid roughsawn lumber. When I do get cuts or splinters, I wash the wound, then apply antibiotic first aid ointment and a bandage. So far, so good.
Risk of bleeding. Because pancreatic cancer can cause blood clots, my oncologist has me on Eliquis, a blood thinner. The same measures I take to lower my risk of infection are my m.o. for minimizing this risk.
A not-great feeling in my stomach, between extra acid production in response to some of the chemo drugs. This sub-par feeling would not in itself keep me from the shop, but it's certainly unpleasant.
Exhaustion is another common side effect of chemotherapy, but so far I have been spared.
Pace yourself
After five rounds of chemo, I was feeling so strong and energetic (despite the low hemoglobin) that I decided I was up for taking on a job in the shop. It sucks to say no to as much prospective work as I have turned down in the past few months, but the stress of knowing clients had expectations of me was too great; I've done everything I can to minimize stress, which some claim depresses the immune system and can even help create the conditions that allow cancer to develop. My current job is a small kitchen for a century-old bungalow – not too large a scope of work, and I really wanted to take on the building of the cabinets in addition to the design, to make sure the cabinets would be built as I had drawn them, with every period detail intact.
I have worked out a basic plan according to which I spend most of my chemo weeks on kitchen design jobs and writing, then spend the alternate weeks in the shop. I am fortunate to have paid writing work, in addition to kitchen design jobs, so I still have income, even when I'm not working in the shop.
Be open with your clients and suppliers
I have been upfront with everyone about my health situation. Not only do I believe it helps everyone when those facing challenges are honest about their situation; for practical reasons, including managing my clients' and suppliers' expectations, I also want people to know their job will likely take longer due to my week-on/week-off schedule in the shop right now. Clients have been wonderfully patient and understanding. Do some people infer from my diagnosis that I'm done with woodworking? No doubt. But there are ways to minimize the damage to your business, by continuing to post—honestly—on social media sites and blogs about the work you're doing in spite of cancer, in addition to word of mouth.
---