Workshop Tip: Miter box parts on the router table
Using this jig and a V-groove bit, you can cut miters accurately and to length.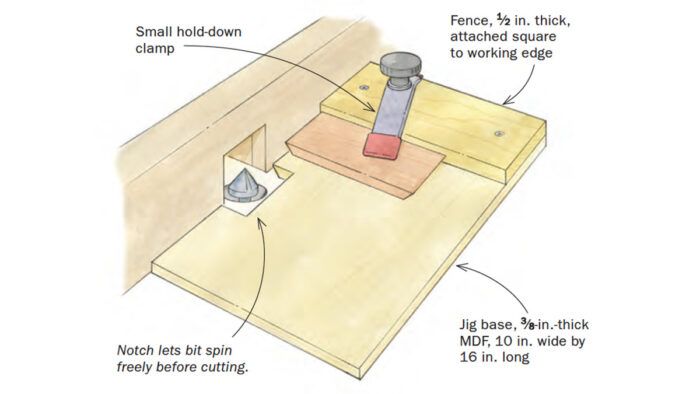 Mitering parts for small boxes is trickier than it seems. You have to cut the angles precisely while cutting parts to uniform lengths. The best approach I've found is a router-table jig like this one. I team mine up with a 1-in.-dia., 90° V-groove bit, but any bit with a 45° cutting edge will work. Start by crosscutting all of the pieces to final length. Then adjust the height of the bit and the position of the router-table fence so the bit just reaches the top edge of the workpiece but no farther. This is so you don't change the length. If anything, leave a tiny square edge at the tip of the miter; it will disappear after the box is assembled and sanded. For uniform results, push the jig and workpiece firmly against the router-table fence as you make the cut, working right to left. Then simply flip the workpiece to miter the other end.
—BRUCE DUDMAN, Hobart, Tasmania, Australia
Illustrations by Dan Thornton
From Fine Woodworking issue #288
Correction from Asa Christiana:
If you look at the drawing that ran in the magazine, you will see that the router bit is not placed high enough, which affects the resulting cutout in the base of the jig. Secondly the cuts in the base of the jig and the workpiece do not line up as they should.
The new drawing has it exactly right, showing The correct bit height, and the resulting cutout in the base of the jig. Also how the front edge of the jig rides the fence on the router table, then part of the jig gets cut away by the bit, and then the cut stops just past the workpiece and the rest of the jig rides securely along the fence.
It's a small detail, but one that will be very helpful to folks actually trying to understand and use the tip.